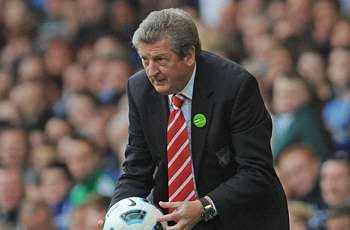 Roy Hodgson insists Liverpool's Boxing Day clash with Blackpool is not about revenge following his side's 2-1 loss at Anfield back in October.
The Reds suffered a humiliating defeat at the hands of Ian Holloway's newly-promoted side, but revenge is not on the cards for the Reds' boss. Hodgson believes after the low point of the defeat his side's performances have seen a marked improvement.
"You [the media] can use the word revenge," said Hodgson.
"Having lost at home we would want to make certain that they suffer a similar home defeat and we get our share of points with them.
"But I don't talk about revenge. I talk about what we need to do to win the game and how we need to play.
"The word revenge does not come into my vocabulary but it will come into a lot of other people's when they are talking about the game.
"I think revenge is a word which belongs in mafia circles rather than football circles.
"It [the Blackpool defeat] was a low point. We were expected to waltz all over this newcomer but not only did we not do it we actually ended up losing the game after a very good performance from them.
"I don't know if that was anything like a watershed as far as we are concerned but I do think over the course of time we have improved our play.
"I don't think it will be as easy for Blackpool to get three points on Sunday as it was for them in that game when we gave them a two-goal head start."
Hodgson wants Liverpool to bounce back quickly following defeat in their last match at Newcastle United, and insists his side can use that defeat to spur them on.
"I don't think you should put things out of your mind very quickly," added the 63-year-old.
"My job is to analyze and make decisions and of course I watched the [Newcastle] game again as I tried to make certain my initial feelings and reactions after the game were backed up by the video evidence of the match.
"There is no doubt that defeats affect you longer than victories but I am very conscious of the need to make sure that you don't get too euphoric after victories and allow that to change your priorities.
"By the same token it is important you do not allow your mood to sink so low that it affects what needs to be done.
"What needs to be done is that training sessions after victories or defeats need to be the same quality and same focus and the only way that can be done is if you get your mind back into some sort of equilibrium."
He added: "You dwell for a day or two and then you have to put things behind you.
"If you had the type of players who dwelt for weeks on end on bad and good results you would find it difficult to complete the 55 to 60 matches in a season.
"Every now and again we will play games where we are dissatisfied and we have to put that into context with the matches where we are satisfied.
"We were pretty satisfied after playing well and beating Aston Villa but against Newcastle it was a different feeling."
Liverpool will boosted for the trip to Blackpool by the return of captain Steven Gerrard from a hamstring injury sustained back in November.