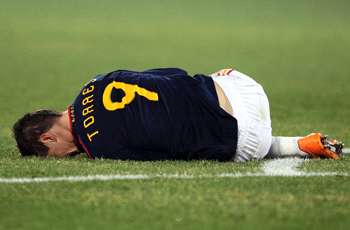 Liverpool have received welcoming news ahead of the upcoming 2010-11 campaign as it's been confirmed that Fernando Torres will be able to play after three to four weeks.
The Spain international suffered a groin injury during his side's World Cup win against the Netherlands in the final on Sunday night. Initial reports suggested that the 26-year-old could be in for a lengthy lay-off, but it's now been confirmed by the Premier League side that the former Atletico Madrid forward will be back in action sooner than expected.
Speaking to Liverpoolfc.tv on board Liverpool's flight to their training camp in Switzerland on Wednesday afternoon, the Reds' new Head of Sports Science and Medicine Peter Brukner said, "The initial assessment was he had a mild adductor tear and the Spanish medial staff didn't consider it to be too serious at the time.
"He had an MRI scan yesterday which confirmed a small tear. He should be able to resume training within two to three weeks and be able to play again within three to four weeks."
This means that Torres will definitely miss the two legs of their Europa League qualifiers but should be back for Liverpool's opening game against Arsenal in the Premier League on 15 August.