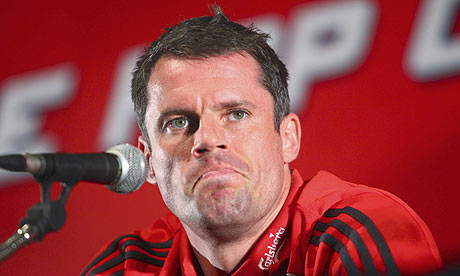 Jamie Carragher has seen it all before as he prepares to celebrate his 677th Liverpool appearance – against the old enemy Manchester United on Saturday.
And despite past bitter clashes Carragher doesn't see the eagerly anticipated game as the Kop calendar's most explosive.
That's despite flashpoints such as his tackle on Nani last season which sparked some ugly scenes.
The fixture Carragher always looks for first are the Merseyside derbies, so the Anfield encounter with United will always take second billing to those.
And that's not an opening shot in the usual war of words between the two old adversaries.
Carragher, 33, genuinely believes playing United is nothing like the Mersey mayhem which was in full flow eight days ago with Jack Rodwell's red card.
He said: "When I was a kid I was a Blue and it doesn't matter what side you are the derby is the big one, always.
"Some will say the United game is but as a local lad, Everton is the biggest game of the season.
"And facing them on their own pitch with a packed crowd behind them – all the ingredients are there. Everything is against you and that makes it so special when you win."
Last season United beat Liverpool 3-1 and 1-0 in the FA Cup at Old Trafford. Liverpool saved face with a 3-1 at Anfield and Carragher fancies the same result again.
He said: "It's a different team now and the mood around here has been transformed."