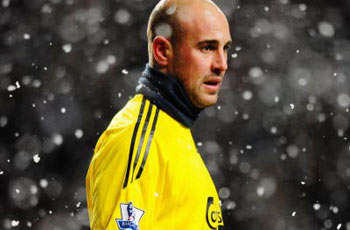 The goalkeeper entered discussions over a new deal shortly after the turn of the year, and it is expected that he will soon put pen to paper on a five-year deal that will see him rake in £90,000 per week.

Such lofty wages may seem impossible given the Reds' ongoing financial problems, but Steven Gerrard, Fernando Torres, Yossi Benayoun, Daniel Agger and Dirk Kuyt have all signed similarly lucrative deals since last summer.

And there can be little doubt that Reina belongs among Anfield's top earners, as he is now widely regarded as one of the world's finest glovesmen - with some even calling for the 27-year-old to replace Iker Casillas as Spain's No.1.

An unnamed source is quoted as saying: "Pepe's deal will reflect his position as an outstanding Liverpool player. A five-year contract will reflect how highly he is thought of by everyone at the club.

"We know he wants to stay and we want to keep him, so now talks have begun on schedule we don't expect any problems."