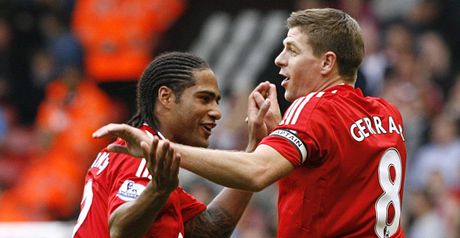 Defender Glen Johnson insists the return of Liverpool captain Steven Gerrard will re-ignite the Reds' season.
The midfield general came off the bench to inspire Kenny Dalglish's men to a comfortable 3-1 victory against Newcastle at Anfield on Friday night.
He bagged the crucial third goal for Liverpool late on to secure all three Premier League points to leave them in fifth place, but crucially, in a position to challenge for a UEFA Champions League spot.
And Johnson feels that the 31-year-old, who was making only his second appearance after a two month lay-off because of an ankle infection, will make a huge difference to the side in the second half of the season.
He said: "Some of the stuff he does you just can't teach.
"He makes a massive difference whether he comes on for 10 or 20 minutes.
"We have definitely missed him and we are glad to have him back.
"It is a big lift for everyone to have him fit again.
"He has been training hard and working very well with the fitness lads and hopefully he will be back starting again soon."
The full-back believes the result against the Magpies could be a turning point in Liverpool's season following four draws in five home games - and scoring more than twice for the first time since late August.
"It was nice to bounce back from last week's draw at home to Blackburn so we are very pleased," he added.
"Craig did well and the longer that continues the better.
"Anyone that can come in and score two goals the more the merrier.
"The more we win the more confidence we are going to have.
"We have one of the best defences in the league so the fewer goals we concede the better and hopefully we can put more away.
"We have to try to beat every team that comes here and we have got off to a good start."