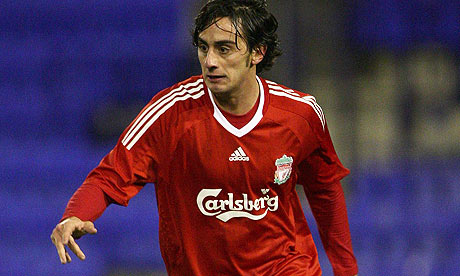 Alberto Aquilani is in contention to make his long-awaited full Liverpool debut on Saturday as Rafael Benítez looks to the £20m summer signing to reinvigorate the club's season against Manchester City.

The Italy international has played only 21 minutes for Liverpool since arriving from Roma in August, as a substitute against Birmingham City and Arsenal, because of his recovery from ankle surgery plus illness. Benítez has been careful to nurse the 25-year-old towards full fitness after several months on the sidelines but is now considering handing the midfielder a first start against Mark Hughes's side at Anfield.

The Liverpool manager's final decision rests on the availability of Steven Gerrard, Yossi Benayoun and Albert Riera, who all could be fit for Saturday despite the Israel and Spain midfielders tearing hamstrings against Birmingham last week. But the option to start Aquilani, who has increased his training schedule significantly since Liverpool's last fixture, is an important breakthrough for Benítez before a demanding set of fixtures and after a succession of injury problems. However, Fernando Torres may be out until the Merseyside derby on 29 November due to a hernia.

Aquilani was bought as a more offensive replacement for Xabi Alonso in the summer and, despite his delayed debut and injury problems, has been tipped to have a major impact at Anfield by his former Roma team-mate and captain Francesco Totti. "He is elegant and smart – these are his main characteristics. Potentially he is one of the best in the world," said Totti. "He has been unlucky with injuries so far but I believe he will do really well in England. Good players prove themselves wherever they go. Alberto will adapt to any type of football. He really is a complete midfielder."

Roma's all-time leading goalscorer added: "Alberto can play in any position in the middle of the park really, either a bit forward or a few steps behind. The advantage he has is that he really understands the game and has great vision – he is dynamic and can make the last pass or try to score himself. Here at Roma, with our 4-2-3-1 strategy, he was playing in front of the defence next to Daniele De Rossi or David Pizarro but also as an attacking midfielder just off me. I think he can do very well in a 4-4-2 too."

Aquilani was given the added incentive of fighting for a World Cup place by Marcello Lippi yesterday, when the Italy coach admitted the midfielder, who appeared for his country at Euro 2008, remained in his thoughts for South Africa. "If he plays with consistency for Liverpool, then why shouldn't I consider him?" said Lippi.

Benayoun and Riera both have an outside chance of facing City despite being ruled out for four weeks when they damaged hamstrings against Birmingham last Monday. The pair received treatment at the Belgrade home of Mariana Kovacevic, the physiotherapist who massages liquid from a horse's placenta into the affected area and is treating Arsenal's Robin van Persie for an ankle ligament injury, and have since made a remarkable recovery.