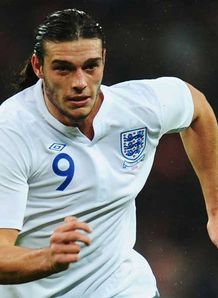 Glen Johnson is confident Liverpool team-mate Andy Carroll is ready to make an impact on the international scene for England.
The most expensive British player in history made his England debut against France last November and is expected to lead the line in Saturday's Euro 2012 qualifier against Wales.
Carroll has started Liverpool's last two games after injury held up his debut and Johnson has been impressed by the powerful striker's ability.
He feels the former Newcastle United ace is more than just a target man and is predicting Carroll will be a hit in international football.
"He scares the life out of opposition defences," said the full-back.
"Everyone sees Andy as a big target man, who can hold the ball up. But there is far more to his game than that.
"He is always an outlet. You can stretch the play by giving it to him and he scores goals. Defenders just do not like the way he plays.
"He has caught me by surprise with his development but in football your life can change very quickly.
"There is no doubt he can make a big impact."
Ahead of Saturday's eagerly-anticipated clash at the Millennium Stadium, Johnson is expected to be handed the job of shackling Wales winger Gareth Bale, who has been in stunning form for Tottenham Hotspur this season.
Johnson added: "It is difficult to say how you stop Gareth Bale, but I am sure we will find a way.
"He is a fantastic player. Inter Milan are one of the best sides in the world, but he destroyed them that night.
"That is where he got the recognition from. He is playing really well. I am sure he will go on and have a great career."