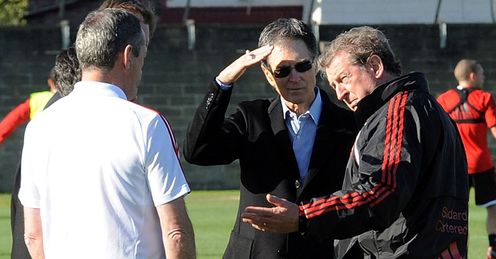 Liverpool owner John W Henry is making no guarantees about Roy Hodgson's long-term future at the club.
Hodgson, who took the Liverpool hotseat in July, has come under fire in recent weeks following the Reds' dismal start to the season, with the Merseyside club currently sitting 13th in the Premier League table.
American Henry, who took over at Anfield last month with his company New England Sports Ventures, says there are no immediate plans for a change in management, and when asked if under-pressure Hodgson was the right man for the job he told Sky Sports News: "He certainly is at this point."
However, the owner added: "I can't make any promises about the future for anything in the organization because two months ago I didn't know that much about English football.
"We tend to stay with our managers and our general managers. Roy didn't build this team so I think he has been unfairly criticized this year.
"I think it is my role at this point to support him in every way, to make sure he has the resources to accomplish what he wants to accomplish. There is no change that is imminent."