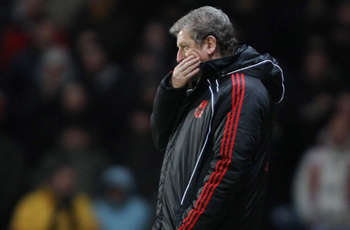 Liverpool manager Roy Hodgson is looking forward to the FA Cup third round clash against fierce rivals Manchester United and hopes his side can use the magic of the cup to turn around their poor form.
United, unbeaten after 20 league games, are clear favourites for the clash with Hodgson's men, who lost 3-1 to Blackburn in their last fixture.
But Hodgson is confident that he can prove his doubters wrong and apply the tactics that will see his Liverpool side surprise Sir Alex Ferguson's men.
"We've got quite an experienced bunch of players here and they know as well as I do how important this game is," Hodgson told the club's official site after his usual open press conference with the media was cancelled on Friday morning.
"In particular for the supporters of the club who'd take enormous delight if we could knock Manchester United out of the cup on their home ground – it would be a remarkable coup.
"The important thing for me to do is, yes, make that point clear, but also to emphasize that to win it will require a lot of intelligent football. We're not going to do it through heart alone.
"It needs to be a combination of endeavour and desire, but also people using their heads to play well tactically, negate Manchester United's strengths and take advantage of some of their weaknesses."
Hodgson has face intense speculation about his future as Liverpool manager but the former Fulham boss was keen to stress that the players and staff at the club feel exactly the same as the disgruntled fans.
"It's very important the fans realize that we understand they have high hopes, expectations and ambitions for the club and the team. We have high hopes, expectations and ambitions as well.
"Every time we go on to the field we desperately want to see those dreams materialize and to produce the performances which bring you results.
"It's very painful when it's not happening and the fans make their views felt. We're all hurting in this situation."
The Reds boss described the loss to Blackburn as a "poor, poor defensive performance" and thinks that a break from the league could be exactly what his side need.
He added: "We thought after Bolton we had a good opportunity to go to Blackburn and beat them.
"To come away defeated was a harsh blow and this game against our fiercest rivals gives us the chance to show we are better than we were on Wednesday."
Hodgson had some good news for fans on the injury front, with news that only Jamie Carragher is set to miss the game through injury.
Defenders Paul Konchesky and Martin Skrtel are slight doubts but are expected to be fit for inclusion in the squad.
Raul Meireles has also made a quick recovery and Hodgson is delighted that he finally has a selection headache to ponder in his midfield.
"It's one of the few times in a long time that we've been able to consider Lucas, Steven Gerrard and Meireles on the pitch together," he said.
"First Steven Gerrard was out for six weeks and then Raul Meireles got injured. It's good to have the three of those available to play."