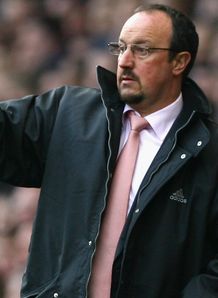 Liverpool manager Rafa Benitez knows that Sunday's crucial meeting with Chelsea can contribute towards the outcome of the Premier League title race.

The Reds travel to London to take on their fierce rivals in determined mood as they aim to respond to critics who have already questioned their 2009/10 credentials.

Defeats to Tottenham and Aston Villa have already rocked Benitez's plans and allowed the doom-mongers to congregate around Anfield before August had come to an end.

But Liverpool have since stabilised in the league and their boss is adamant that there will still be plenty of twists in the battle for silverware as he aims to add pressure on Chelsea, who lost at Wigan last weekend.

Benitez told Sky Sports News: "It is always important when you play against the top sides because it can make a big difference.

"But you never know. It is important to do the right things and if you can win it is fantastic. If not, you have to keep going. It is an important game for both teams."

He added: "If we can win, it will be two defeats in a row for them. But my idea is always the same, it is a long race and there is still much to play."

Benitez heavily criticised his players in midweek following a comprehensive defeat at Fiorentina in the UEFA Champions League and he is expecting a reaction on Sunday.

But the former Valencia chief is also wary that Chelsea, who were unbeaten before their setback at Wigan, are looking to rediscover top gear.

He said: "Both teams will be desperate to win so we will hopefully see a good game. You always have to go with the idea that you can win."

Benitez is set to renew rivalries with Chelsea boss Carlo Ancelotti on Sunday after twice crossing swords with the ex-AC Milan manager in UEFA Champions League finals.

Liverpool memorably got the better of Milan in 2005 in arguably the best European Cup final in history, however, Ancelotti's side gained revenge in 2007.

Benitez is therefore expecting another intriguing encounter with the Italian, saying: "It will be interesting because he is a great manager.

"We have played in the finals and, OK, it will be good to see him and hopefully we will see him again in another final.

"He knows how to manage a top side. He has experience at AC Milan where he did really well and here he is now doing a very good job with good players."

But Benitez - who has been critical in the past of the tactics from the Blues under former bosses Jose Mourinho, Avram Grant and Luiz Felipe Scolari - does not think Ancelotti has had a radical impact.

When asked if he had noticed any difference in Chelsea's approach this season, he said: "Not too much. He has changed the shape of the team a bit, but the style of football is similar."