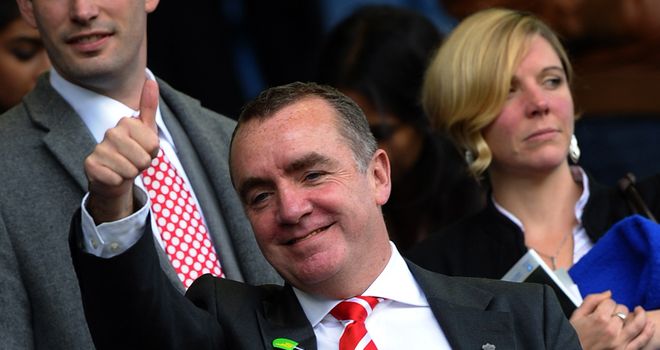 Liverpool's managing director Ian Ayre is optimistic for the future despite the club posting losses in its latest set of accounts.
The accounts, which will be published later on Thursday, saw the Reds record a £20million loss for the 12 months ending July 2010 - the last full year of the reign of former owners Tom Hicks and George Gillett.
The figures show revenues rising to £184m, but net debt increasing to £123m, incurring interest payments of £17m.
Since then, Fenway Sports Group bought the Reds in October, while the accounts do not also include income from the record £80million, four-year shirt sponsorship deal with Standard Chartered agreed last summer.
Ayre said the arrival of FSG meant everyone was now optimistic about the health of the club, both on and off the field.
He told the club's official website: "As much as we are all aware of the difficult circumstances surrounding these accounts and that period in the club's history, everyone in the world can now see just how much has since been achieved.
"Since the end of the last financial year, FSG has paid off £200million of acquisition debt from the previous owners, dramatically reducing interest payments as a result and meaning we are able to invest more revenue in the team rather than servicing debt.
"We have also enjoyed significant commercial growth since these accounts were finalized, including our shirt sponsorship deal with Standard Chartered, which was the largest partnership contract in the club's history.
"On and off the pitch since the end of the last financial year, the picture is an improving one as we focus on growing profitability and strengthening the first, reserve and academy operations.
"We had an extremely successful January transfer window which saw the ownership and management teams working closely to bring in some high quality players.
"The club is now in an excellent position to move forward and all of us can approach the future with optimism."