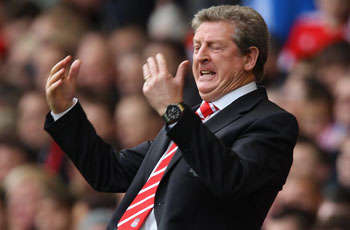 Liverpool legend Ray Clemence has slated talk of an instant dismissal for under fire manager Roy Hodgson as "crazy".
Hodgson, 63, has come under intense criticism following Sunday's 2-1 defeat to Blackpool which left his side in the Premier League relegation zone.
Speaking to Sky Sports News, Clemence - who racked up 665 First Division appearances for the Anfield outfit - stated: "Roy Hodgson said yesterday was disappointing - that is probably an understatement at the moment.
"No-one expected them to be where they are in the table, although everybody expected a transitional year.
"It's crazy to talk about getting rid of him - they've got an excellent manager who will get things right given time and patience.
"But his hands are tied and the thing is nothing can be sorted lower down until the top end of the club is sorted out.
"It's time to stay together and be patient, keep feet on the ground and make sensible decisions. I'm sure they will be able to climb again.
"The decision on the manager has been made and everyone should stick behind him."