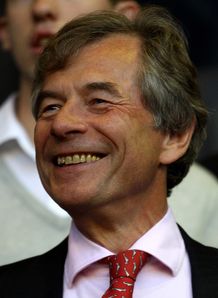 Liverpool chairman Martin Broughton has aimed a swipe at Manchester City, saying his club's prospective new owners will provide a profitable future at Anfield.
The Reds have agreed in principle to sell the club to New England Sports Ventures, but co-owners Tom Hicks and George Gillett are trying to block the deal.
The takeover battle is set to be resolved in the High Court next week with Liverpool hopeful a deal with NESV, who also own the Boston Red Sox, will be pushed through.
Broughton believes prospective new owner John Henry will provide 'rational' leadership at Liverpool and that the club will be in position for the new Uefa fair play regulations, which are set to come into effect in 2012.
"A hugely important aspect for Liverpool is [Uefa's] financial fair play rules. They come into effect pretty damn soon, and will have a massive effect on many, many clubs," Broughton said.
"Taking a rational, commercial approach to success is absolutely the right way forward, and that is what New England will do. They have demonstrated that already in their model at Boston.
"I couldn't help notice that Manchester City's wage bill for last year was exceeding its revenue. That is going to be very difficult under financial fair play. They might be able to sort it out before then but we were not looking for someone who was going to put us in that position.
"We were looking for somebody who was going to see this as a commercial business that can be commercially successful. That is what they have already demonstrated. They have made a profit by investing heavily in players and stadium development and they have delivered a winning team."
Broughton insists NESV's approach is the right one for the future and that funds will be made available to bolster the playing ranks.
Broughton added: "We weren't looking for an Abramovich or Sheikh Mansour, because we understand a rational commercial approach is the way forward in football now.
"New England's bid of around £300m will include £200m in equity to write down the acquisition debt, as we call it, the legacy of Hicks and Gillett, and there is £40m of cash to pay off various other liabilities.
"The balance is what we call assuming the ongoing working capital debt and the new stadium financing debt, and it means there will be no debt on the club, and Liverpool will actually be equity rich. The aim was always zero debt.
"Why? Because that will allow trading without debt, and vast profits coming available again to invest in the business instead of servicing loans. New England are fully committed to that, they are committed to investing heavily in players and infrastructure to boost future profits."