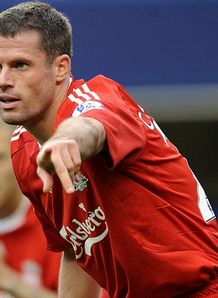 Rafa Benitez believes Jamie Carragher proved with his performance against Manchester United that he is not at the end of his career just yet.

The Liverpool defender has been criticised for some of his displays during the early part of the season and there have been suggestions he is not the player he once was.

However, he was at his defiant best on Sunday and helped the Reds seal a crucial 2-0 victory over fierce rivals United.

Benitez insists he never had any doubts about the 31-year-old, while he expects Liverpool to get back on track now key players are returning to fitness.

"Jamie played well," said Benitez. "He had been having a difficult time but the only thing to do in such a situation is to try again and try again.

"It was only a question of keeping working hard, and he proved that he is a good centre-back and not at the end of his career just yet.

"He showed what a good defender he still is and (collectively) we have shown that we are not a bad team, not a bad squad. Maybe next April people will again judge us but at this moment we have enough quality.

"We have had five players injured, all at once. But when we are all fit we are difficult for anyone to beat."

Benitez and his players had come under pressure after a run of four straight defeats in all competitions but he maintains he always had confidence in the character of his squad.

He explained: "The players responded to the messages they had been given. It was simple, keep training the same way, keep working hard and things will change.

"In football you can talk a lot but if you do not work hard you will not change anything.

"We worked hard on lots of things, but the main thing was that everyone was together, the team, the fans, the staff. The attitude was fantastic, and you can see that we can beat anyone.

"This was the perfect answer, the perfect response because we were not winning.

"Against a good team you have to perform really well and be focused to achieve what you want. All the players wanted to impress, that was the difference.

"It was a result that will please a lot of people, maybe not United. But I have been saying all season that the top sides will lose more points that you would expect, that will make the title race more open.

"This is the proof. I was determined to keep my confidence, to keep my faith in my players."