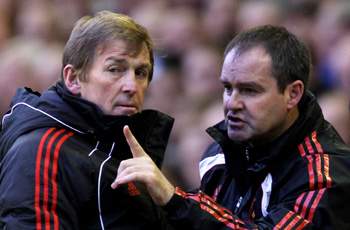 Liverpool coach Steve Clarke has revealed that the recent run of success has been down to the tightening at the back, but the players should be taking the plaudits for adapting quickly to changes implemented by the staff.
The Reds have had four wins on the bounce, keeping clean sheets in all. A 1-0 victory at the weekend against Chelsea came after victories over Stoke City, Wolves and Fulham.
This run of form has seen the Reds climb the table into sixth place and they are now in contention for a Champions League spot.
But while Clarke has been praised for the defensive qualities which Liverpool have demonstrated in the previous few games, he believes it is down to the players on the pitch.
"Your success is always based on how you defend," he told reporters.
"If you defend well as a team and don't concede goals then you will always give yourself a chance to win the game.
"It has been good for us in the last few games not to have let any goals in. It's good for Pepe [Reina], it's good for the confidence of everybody and hopefully we can continue that."
Clarke's influence has also affected the way Liverpool line up. In games against Stoke City and Chelsea the Reds changed to three at the back with attacking full backs, which so far has proved to be very successful, but the former right-hand man to Jose Mourinho at Stamford Bridge maintains that it is because the players have adapted quickly they have got the results.
"Most of the credit has to go to the players," he continued. "They are the people that go on the pitch and they have to put that into practice and they've done that very well recently.
"I have been impressed with their attitude since I first came to the club.
"Even at the start when it was more difficult to get a result on the training ground you could see the players were working and they were hungry.
"They wanted to take on board what we trying to tell them and hopefully the recent results are a reflection on how they have trained."
Liverpool is now fighting for a Champions League spot which only a couple of months ago seemed unimaginable.
However, the Reds must keep up winning if they are to have any chance of getting into Europe and on Saturday they will face a true test of character against a Wigan Athletic side who have won four of their last six meetings against Liverpool.
Clarke remains defiant though that his side can go from strength to strength.
"The club when we came here were in a false position and it was important to put that right," he added.
"The only way you do that is by winning games and we have shown that when you string together a good couple of wins then you quickly go up the table.
"We are in a better position now but we are certainly not in a position that Liverpool Football Club should be at, we want to be higher.
"But I think you only have to look at recent results in the Barclays Premier League to know that everybody is dangerous.
"We have to be on our guard but we also have to be confident and sure of ourselves and think we are looking like a good side again."