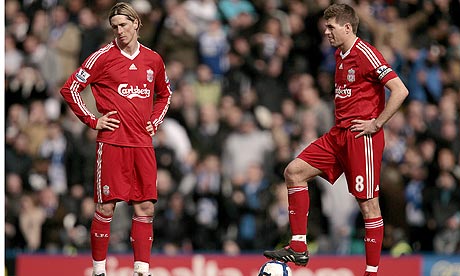 Frustration was etched on Steven Gerrard's face when Fernando Torres was withdrawn at Birmingham City and his outlook has not changed after a result that left Liverpool "underdogs" in the race for the fourth Champions League qualification place. The Liverpool captain believes only a 100% record can preserve the club's place among the European elite but accepts the time for making promises at Anfield is over.

Rafael Benítez's team are four points adrift of Manchester City in fourth place following the draw at St Andrew's on Sunday, a contest Gerrard admits Liverpool had to win to increase their chances of salvaging their domestic campaign. The manager's decision to substitute the ineffective Torres raised eyebrows at Birmingham, Gerrard's included, but would have been vindicated had his replacement, David Ngog, taken one of several chances to seal victory late on. His failure to do so has prompted a sombre analysis from the England vice-captain and an admission that Liverpool are more reliant than ever on City and Tottenham Hotspur faltering on the run-in.

"To give ourselves a better chance we had to take maximum points here and it's going to be really difficult now," Gerrard said. "But the race for fourth place seems to change from week to week. You have to look at the teams above us, they're the favourites and we're the underdogs at the moment. But we'll keep fighting all the way to the end."

Gerrard believes Liverpool must win their five remaining league games. Their best league sequence this season is four consecutive victories at the start of the campaign – against Bolton, Burnley, West Ham United and Hull City, and they still have to play the last three.

The midfielder is wary of making further predictions. "It's OK saying we'll be all right if we win our last five games; we have to go out on to the pitch and win them rather than talk about it. It will be difficult but we have the experience and we're hoping that will be vital in the end but I think it'll go down to the wire. It's easy for me to stand here and say we have to win all our games, we have to go out and do it."