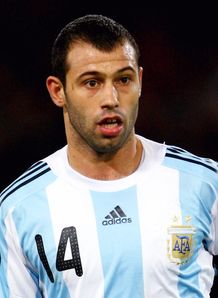 Javier Mascherano insists he has no feelings about former club West Ham as Liverpool prepare to face The Hammers.

Mascherano joined West Ham along with countryman Carlos Tevez - who went on to play a major role in keeping The Hammers in the Premier League in 2007.

Tevez's controversial participation in West Ham's season is now leading to court battles - but Mascherano's Upton Park career passed off without anywhere near as much controversy.

Indeed the combative midfielder managed just seven games for The Hammers before joining Liverpool in January 2007 - and the player admits he has little feeling for West Ham given how little he played for them.

"West Ham brought me to England. That was very good for me, but I still could not play there, it was not like at River Plate or Corinthians when I could play and win titles," he said.

"I only played a few games, so I do not have a big feeling for the club.

"But I was very pleased that they brought me to England, and happy with the welcome I got there. They did give me the chance to play in England, which is clear.

"But I do not feel a big passion for the club because I couldn't play there. I was there for four months, I did not have a feeling with the people.

"I don't feel anything about them. My club is Liverpool, and I do the best for the people here, my team-mates and supporters.

"I do not think about anything now at West Ham. West Ham is nothing in my life now because I was not able to play there.

"It is just another team in the Premier League. I do not feel anything else.

"The important thing now for me is to win with Liverpool and to keep going. We want to be top of the table and we must just keep going."