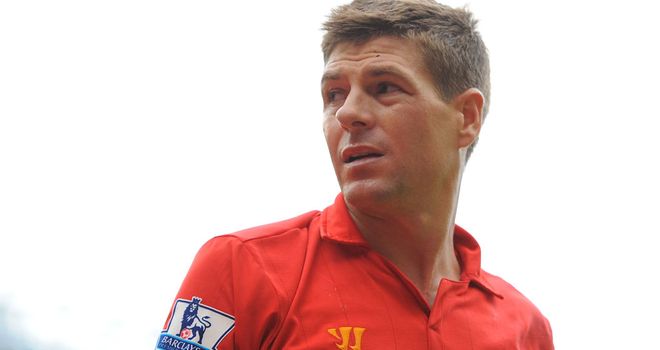 Liverpool skipper Steven Gerrard hopes a victory over Manchester United at Anfield on Sunday will act as a springboard for a winning run of games.
The Reds go into the clash hovering just outside the early relegation zone with just two points from their opening four games.
Gerrard believes Sunday's clash is the biggest club-game in the world and he is relishing trying to help Brendan Rodgers' side post their first win of the campaign.
He told the club's official website: "For me, it's the biggest because the Premier League is the biggest league in the world and these are the two most successful clubs.
"I'm not being biased when I say that - I think Liverpool versus Man U is the biggest game. Maybe Barca and Madrid is up there close to that, but for me it's still this one.
"It's a massive game - we're looking for our first win of the season and there would be no-one better for us to start getting three points on the board. Hopefully then we can go on a run of winning games and move up the league because our start to the season has been inconsistent."
The Premier League encounter at Anfield will be Liverpool's first home match since the publication of the new report into the Hillsborough disaster which absolved Reds' fans of any blame.
Since the report there have been widespread appeals to fans of all clubs to cease tasteless chanting about tragedies to have befallen their rivals and United boss Sir Alex Ferguson has been especially forthright in his comments on the matter.
Liverpool boss Rodgers said: "We want this day to be remembered for the right reasons before the game, and the footballing reasons.
"A lot of work has been done and hopefully Sunday will pass off peacefully and well and we can talk about the tributes and football.
"It is an emotionally-charged game. I wouldn't sit here and tell Liverpool supporters how to behave. I know how they have behaved over many years has been fantastic.
"These are well-educated supporters who value humanity. I have no issues or no problems there, the message has been clear, and from Sir Alex as well, in relation to his supporters.
"I am sure once we pay the tributes to the families we can get on with the football."