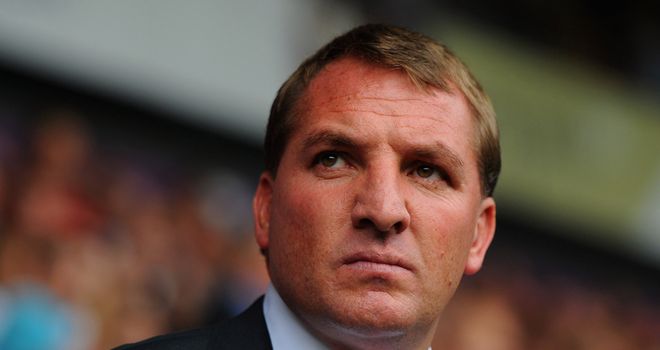 Brendan Rodgers does not want his Liverpool team to rely on goals from their strikers this season.
The Reds manager says there is a need for all his outfield players to contribute, and he is keen for there to be less emphasis on the number of goals from his forwards.
Liverpool drew a blank in their defeat to West Brom on the opening day of the Premier League season, and Rodgers says they cannot simply look to their strikeforce to open their account.
"It is no good having a goalscorer scoring 30 goals and no-one else scores - I've always been against that theory," Rodgers declared.
"For me it is a team ethic. Luis Suarez will score goals, Steven Gerrard can score goals, young Fabio Borini will score goals, but we also need goals from our centre-halves.
"If you can get your centre-halves scoring five goals that will always add and then you are looking at your full-backs doing a bit more.
"It is a team responsibility, not just one player. You bring in one striker who can score you goals, which is great, but it's not good for the team if the rest don't score."
Borini struck the post in Liverpool's Europa League win over Hearts, an echo of a frustrating aspect to their 2011/12 season where the woodwork was hit over 30 times.
Rodgers added: "I told the players this year you can't blame referees and crossbars, you have to be clinical, you have to be ruthless.
"We will always create enough chances, but even if we don't, if there are only one or two chances as in big games it is tight as defences are harder to break down, when you do get those chances you have to put them away.
"When you get chances you have to take them, but I believe I have a number of players who can score goals."