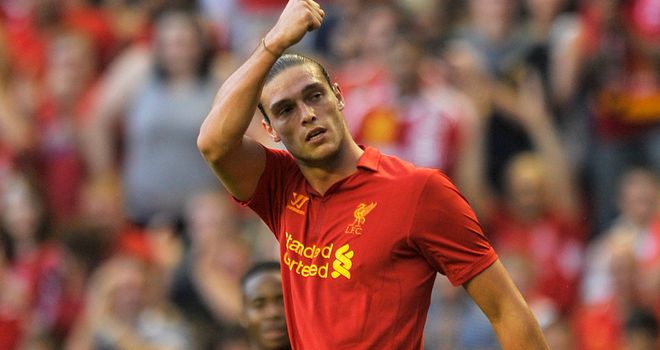 Brendan Rodgers has revealed Andy Carroll missed Liverpool's Europa League win over Hearts with a hamstring problem.
Carroll failed to make the squad for the play-off first leg in Edinburgh - despite his presence at the stadium - with the £35million striker linked with a return to Newcastle.
However, Rodgers says the forward was set to start against Hearts and he remains hopeful he will be fit for Sunday's Premier League visit of champions Manchester City.
He said: "Andy was due to start. He had a slight twinge on his hamstring. We had a scan on it and it didn't show a tear, just a slight disruption.
"We tried to give him 48 hours, let him travel and he trained one day before to see how it was. It was still a bit tight and the medics' advice was it was too much of a risk for him to play.
"It was unfortunate because he has worked well and I know he was desperate to play.
"Hopefully missing the game on Thursday night will allow him to recover for the weekend."
An own goal from Andy Webster with 12 minutes to go was all that separated the two sides on Thursday night and Rodgers refused to concede the outcome of the tie is now a foregone conclusion in the second leg at Anfield next week.
He said: "We always respect every opponent. We're not that good to be that complacent to be honest. We've got an awful lot of work to do but I was delighted for the players tonight.
"Once they got the positioning right in the second half, they were excellent at times.
"It was great for me to see some of the players who haven't been playing so much, some of our young talent as well.
"All round it was a good win and another clean sheet, which is important."