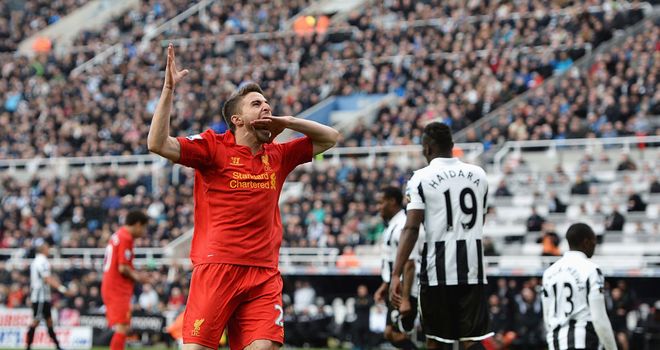 Liverpool striker Fabio Borini says he wants to step in and fill the gap left by Luis Suarez's 10-match ban.
Borini returned from 10 weeks out with a dislocated shoulder to come off the bench and score in the 6-0 hammering of Newcastle at the weekend.
Having now scored his first Premier League goal for the club Borini hopes he can not only help fill the gap left by Suarez's ban but also contribute when the Uruguay international comes back.
"It had been a long injury for me and a long wait to score in the Premier League," he said.
"It's been hard. When I hurt my shoulder they said my season could be over but I fought back as I really needed to come back earlier.
"I took the minimum possible to get back training which was eight weeks instead of 12. Some people probably didn't think I could make it but I fought back.
"I can play a big part now not because Luis is suspended but because I am back fit.
"Whether Luis is available or not, we all need to focus on doing our jobs."
Liverpool face Everton at Anfield on Sunday and the Italian is looking forward to playing in his first Merseyside derby
"Next weekend will be my first derby here," he told liverpoolfc.com.
"But I've played in big derbies in Italy (Roma v Lazio) so I know the feeling.
"The atmosphere in those games was always very hot and I am sure here will be the same."