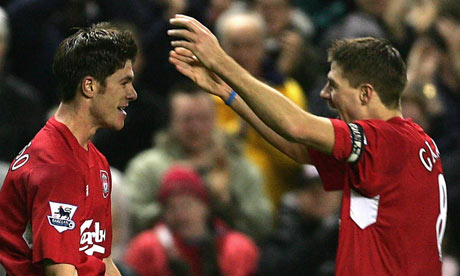 Xabi Alonso wants to end his playing days back at his beloved Liverpool.
The Real Madrid midfield star's current deal has 18 months to run and the Spanish giants won't start talks until the summer.
But by then, Alonso, 31, will already have decided on his future, with a desire to link up once more with his great friend, Liverpool captain Steven Gerrard.
Alonso and Gerrard talk regularly with the Kop star saying: "Xabi Alonso is the best midfielder I have played with. I miss playing with him."
Now Gerrard looks like getting his wish with Alonso determined to return to Anfield before he hangs up his boots.
The Spaniard enjoyed a five-year spell at Liverpool and played a huge part in their Champions League triumph in 2005.
New Kop boss Brendan Rodgers has always insisted his formation centres on a "controller."
And there's none better than Alonso at pulling the midfield strings.
Alonso has never forgotten the influence of Gerrard.
He said: "He was a great influence. I learned a lot from him. We are friends and keep in touch. He is so inspirational."