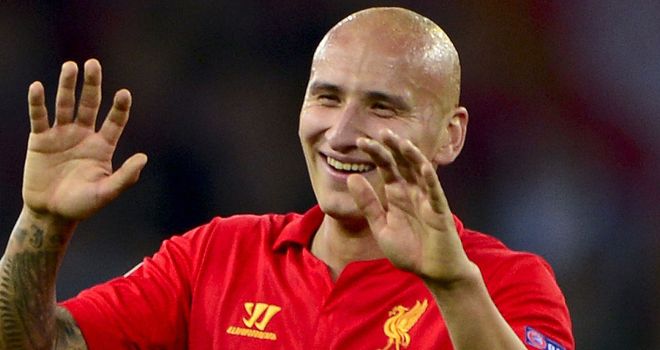 Jonjo Shelvey admits he is happy to fill the boots of suspended Luis Suarez ahead of Liverpool's clash at West Ham on Sunday.
The Reds star is determined to do his best to adapt to an unfamiliar position for the sake of the team as they travel to the Boleyn Ground without the Uruguayan.
But the 20-year-old Essex boy insists he is ready for the challenge, despite only having experienced playing in the role against Young Boys in the Europa League earlier this season, albeit, Shelvey made an entertaining cameo by bagging a brace.
He said: "Luis is a world-class striker so everything he touches goes in.
"I played there against Young Boys and thought I did all right. I did a job for the team.
"It is difficult to adjust because you have your back to your opponent all the time, whereas in midfield you can see in front of you, so it is difficult in that respect.
"It is a different type of fitness as well, but I'll be ready for it.
"You have to be aware of where other players are each side of you and in that respect I think I have got to do some work.
"But you play where you are told and it is always an honour to play.
"I'm excited because it is the team I supported but it is not an easy player's boots to fill.
"West Ham are a good team and a different type to play against as they are a bit more direct that others in the Premier League."
Shelvey also believes Liverpool is gradually moving towards a style of play which will bring more goals from every area of the pitch under manager Brendan Rodgers.
And with the likes of defender Daniel Agger and midfielder Jordan Henderson proving to be the match-winners in their last two matches - against Southampton and Udinese - Shelvey reckons other players are now starting to share the burden with Suarez.
"In any team, goals have to come from all angles of the team, and I think they will," said Shelvey, who played for West Ham's youth team having grown up in Romford as a boyhood fan.
"Daniel scored on Saturday and Hendo scored on Thursday, so they are starting to come and the more and more we play together the more it will happen.
"You don't go out there purposely not trying to score. If you get a chance you are going to try to score but obviously sometimes it doesn't happen."