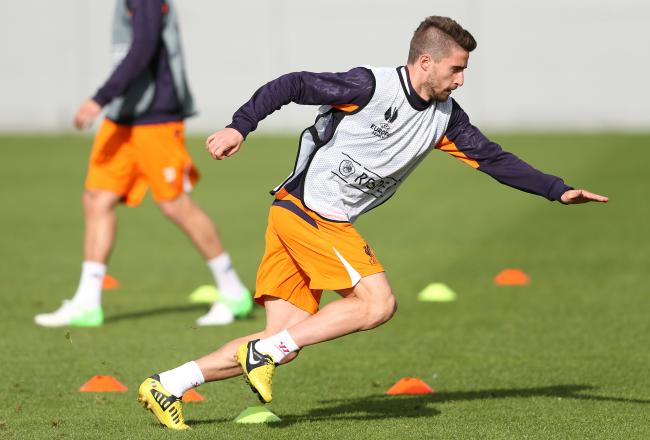 Liverpool striker Fabio Borini wants to help fire the club to Europa League success when he returns from foot surgery.
Borini, 21, has been unavailable since breaking a bone in his foot in mid-October but is hoping to resume training at Liverpool's Melwood base just after Christmas.
The former Roma man was at Stadio Friuli to see his team-mates qualify for the Europa League knockout stages by beating Udinese 1-0 on Thursday, and he is aiming to ensure he can play his part when the competition resumes in February.
"I'm quite good now - working hard every day," he told Liverpool's official website. "The foot is very good and on Monday I see the surgeon to sort out the screws and see if they are taken out or not. On December 26, I'll be back in Liverpool.
"I feel strong. I'm working a lot on the other muscles. I'll start working on my ankle and foot, which is better, and my calf is a lot better."
Jordan Henderson has vowed to improve his scoring record after grabbing the goal that extended the club's Europa League campaign.
The England Under-21 captain has largely been restricted to playing in cup competitions since Rodgers replaced Kenny Dalglish as manager during the summer.
However, Henderson, signed from Sunderland for £16 million in 2011, is hoping there will be better things to come.
"I have missed a few good chances in games so it was nice to put one away, and I hope I can keep scoring from now on," he said. "I have always tried to improve my goalscoring.
"Even when I've been getting good chances of late I've not put them away, so I started to think that I needed to score. I've managed to do that, so I'm happy. You have to keep working hard, keep doing the things you have been doing and it will pay off in the end."
Henderson reckons Liverpool will be a stronger side when the Europa League resumes in February, although his immediate focus is Sunday's Premier League trip to West Ham.
"I think we are going from strength to strength every week and we are improving," he said. "It is important for Liverpool to be involved in the knockout stages of European competition.
"When February comes, we will have improved a hell of a lot and we can kick on from there but our main focus now is Sunday against West Ham. We hope the win will give everyone confidence going into that game."