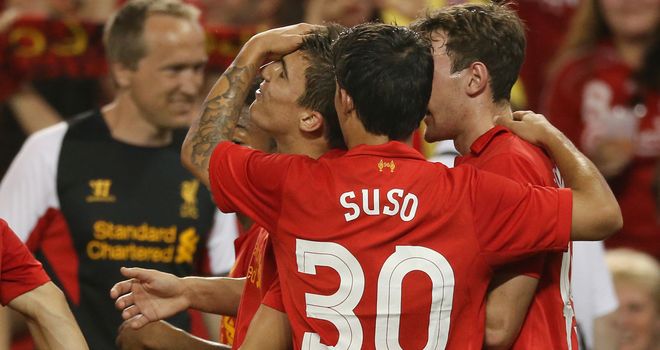 Liverpool manager Brendan Rodgers has confirmed that he is ready to hand Spanish starlet Suso his chance of a first-team place.
Rodgers admits Liverpool have left themselves short up-front, having sold Dirk Kuyt and Craig Bellamy, and then loaned Andy Carroll to West Ham.
Liverpool had hoped to sign at least one forward on deadline day, but moves for the likes of Daniel Sturridge and Clint Dempsey faltered and they missed out.
But Rodgers admits he is ready to bring in 18-year-old Suso, who is yet to make his Liverpool debut after joining the club's youth set-up in 2010 from Cadiz.
"There might need to be an intermediary way of working now," Rodgers is quoted as saying by The Independent.
"Boys like Suso will get their opportunity. The percentage under 21s playing in the Premier League is statistically very, very small. We are going to be stretched the limit and [we'll be telling them] 'if you've got little niggles and injuries you've got to man up.' We've got to be together and be strong.
"This [situation] will allow guys to stand up to the plate. You get an opportunity but you have got to take it."
Rodgers has already drafted in youth stars Raheem Sterling and Adam Morgan to his squad, and now Suso looks set to join them in the senior ranks.
"The younger players will run through a barbed wire fence for you," Rodgers said.
"The older players will look for a hole in the fence - and probably find one!"