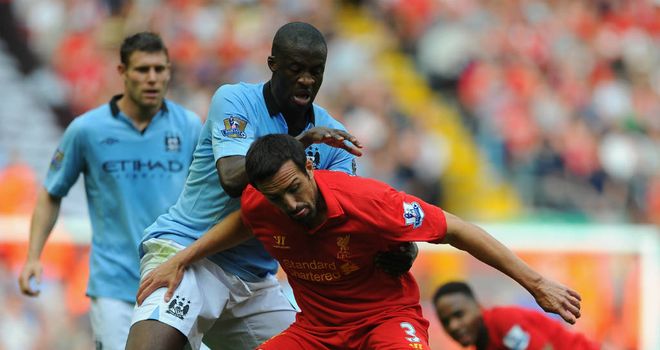 Liverpool defender Jose Enrique insists he is ready to fight for his place in Brendan Rodgers plans.
Enrique was recalled to the starting XI for last weekend's defeat to Arsenal after being named on the bench for the draw with Manchester City.
Rodgers has also used Stewart Downing at left-back this season and Enrique is happy with the extra competition for places at Anfield.
"It's a good thing because before there was just myself and Jack Robinson," Enrique told told the Liverpool Echo.
"With the way we intend to play, that is with the right-back and left-back attacking, Stewart can fit in well.
"He's a good lad and I'm happy for him. We have many games so it's good to have competition for places.
"I want to play here for as many years as I can and play as many games. I hope to be like Carra but that would be really difficult.
"I want to stay here because it's an amazing club and every player dreams of being here. I've played in English football for five years and it's amazing to play here."
Enrique, who joined Liverpool last summer from Newcastle, believes he has already learned a lot from Rodgers who wants the full-back to get forward more this season
"I'm still learning," added Enrique. "At teams like Liverpool you learn quickly. In one year here I have learned a lot and with this manager I have learned plenty too.
"The manager gives us simple instructions. He says more things during the week than he does in his pre-match team talks. He has tried to instruct and improve every player and I think this is a good thing because everyone is still learning. I still make mistakes so I have to learn.
"The manager wants me to make more assists and score more goals and play more like a forward.
"He has told Glen Johnson and Martin Kelly to do the same and Stewart Downing in the left-back role."