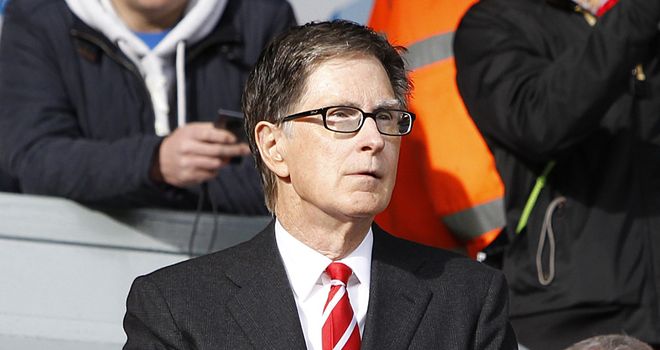 Liverpool owner John W Henry insists that the club's summer transfer plans cannot be 'deemed a failure'.
Manager Brendan Rodgers was quizzed about Liverpool's transfer dealings following their 2-0 loss to Arsenal, and he admitted his own disappointment.
In particular, Rodgers admitted that their failure to bring in a striker was a concern after they loaned out Andy Carroll to West Ham earlier in the week.
Henry has looked to address the angst amongst many Liverpool fans, by insisting they were disappointed to miss out on bolstering their strike-force.
"I am as disappointed as anyone connected with Liverpool Football Club that we were unable to add further to our strike force in this summer transfer window, but that was not through any lack of desire or effort on the part of all of those involved," he said in an open letter to the fans.
"They pushed hard in the final days of the transfer window on a number of forward targets and it is unfortunate that on this occasion we were unable to conclude acceptable deals to bring those targets in."
Despite their disappointment Henry insists that overall they had a succesful window with the signings of Joe Allen, Nuri Sahin and Fabio Borini - whilst also hanging on to the likes of Luis Suarez,Martin Skrtel and Daniel Agger.
"A summer window which brought in three young, but significantly talented starters in Joe Allen, Nuri Sahin and Fabio Borini as well as two exciting young potential stars of the future - Samed Yesil and Oussama Assaidi - could hardly be deemed a failure as we build for the future," he stressed.
"Nor should anyone minimise the importance of keeping our best players during this window. We successfully retained Daniel Agger, Martin Skrtel and Luis Suarez. We greatly appreciate their faith and belief in the club. And we successfully negotiated new, long-term contracts with Luis and with Martin."
Henry also insisted that the club were not cutting back on spending, despite failing to land their top target Clint Dempsey on deadline day as they could not match Tottenham's offer.
"The transfer policy was not about cutting costs. It was - and will be in the future - about getting maximum value for what is spent so that we can build quality and depth," he continued.
"Spending is not merely about buying talent. Our ambitions do not lie in cementing a mid-table place with expensive, short-term quick fixes that will only contribute for a couple of years.
"Our emphasis will be on developing our own players using the skills of an increasingly impressive coaching team. Much thought and investment already have gone into developing a self-sustaining pool of youngsters imbued in the club's traditions.
"We are still in the process of reversing the errors of previous regimes. It will not happen overnight. It has been compounded by our own mistakes in a difficult first two years of ownership. It has been a harsh education, but make no mistake, the club is healthier today than when we took over.
"Finally, I can say with authority that our ownership is not about profit. Contrary to popular opinion, owners rarely get involved in sports in order to generate cash.
"They generally get involved with a club in order to compete and work for the benefit of their club. It's often difficult. In our case we work every day in order to generate revenues to improve the club.
"We have only one driving ambition at Liverpool and that is the quest to win the Premier League playing the kind of football our supporters want to see.
"That will only occur if we do absolutely the right things to build the club in a way that makes sense for supporters, for us and for those who will follow us.
"We will deliver what every long-term supporter of Liverpool Football Club aches for."
Henry also insisted the club is firmly committed to Brendan Rodgers's regime - despite his troubled start as boss.
"No one should doubt our commitment to the club. In Brendan Rodgers we have a talented young manager and we have valued highly his judgement about the make-up of the squad," he said.
"This is a work in progress. It will take time for Brendan to instil his philosophy into the squad and build exactly what he needs for the long term."