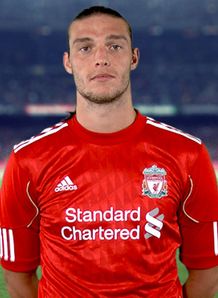 Liverpool manager Kenny Dalglish expects £35million man Andy Carroll to take his opportunity with 'two hands' over the festive period.
The former Newcastle striker, who moved to Anfield last January, has started just eight Premier League games this season and has scored only two goals.
A traditionally busy fixture-list over Christmas and the New Year means Carroll could be offered chances to start as Dalglish rotates his squad.
"Training well never does anybody any harm whatsoever, and if you are going to get an opportunity then the better you train, the more capable you are of taking that opportunity," said Dalglish in the Liverpool Daily Post.
"As we have said before, everybody that is in this group of players has trained fantastically well and if they have been given an opportunity they have always taken it and if the big yin (one) gets an opportunity I am sure he will take it with two hands."
A lack of fitness meant Carroll did not make his Liverpool debut until a 15-minute run out against Manchester United in March.
Injury problems continued to trouble the 22-year-old in the second half of last season and Dalglish believes the record-breaking signing is as a result still at the same stage as summer signings in settling at Anfield.
The Reds boss said: "I think what we have to remember also is, seven new players, it's their first season and you would include Andy in that as well.
"He came in last season with an injury and never featured until the Manchester United game, when he came on as a sub. So his career really only started in August there.
"We have got to get know them and they have got to get to know us and I think it is a fantastic credit to all of them, the new ones and the ones that were here before, that they have gelled so quickly.
"That includes everybody who has come in. It will take a bit of time for everyone to be acquainted with each other but we are happy with the progress we have made so far."