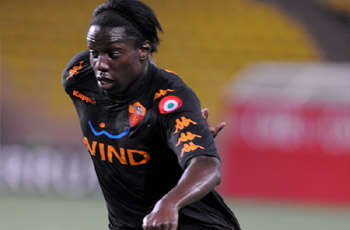 Roma striker Stefano Okaka is not set to make the surprise switch and follow Roy Hodgson from Fulham to Liverpool, according to his agent.
Okaka, 20, scored two goals for the Cottagers last season after joining the club on loan in the New Year. His former manager was announced as Liverpool boss and had been linked with taking the player with him to Anfield.
Speaking to Romanews.eu, agent Domenico Scopelliti stated any reports of such a move were wide of the mark.
"Interest from Hodgson at Liverpool? If only it were true," Scopelliti said.
"Currently there are only just rumours, and I have not heard anything from an English club. Certainly we couldn't say no to Liverpool, and the boy would be enthusiastic to continue his adventure in England with Hodgson.
"There is also a friend there in [Alberto] Aquilani.
"Bologna? I believe that the negotiations should not be made in the newspapers.
"I have not been contacted by anyone, and I think Roma have not heard from anyone from Bologna, because they would have told me."