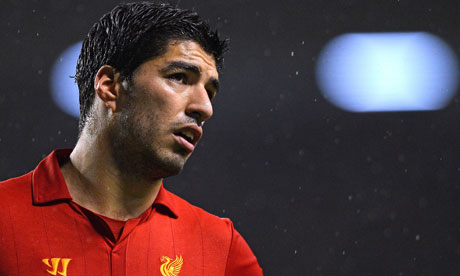 Luis Suárez returned from the cold at Liverpool on Friday when he trained with the senior squad for the first time since accusing the club and manager Brendan Rodgers of breaking promises over his future.
Rodgers ordered the Uruguay international to train away from the senior squad after his interview in the Guardian last Tuesday, when he stated his desire to join Arsenal and criticized Liverpool's stance over a £40m clause in his contract.
The Liverpool manager insisted that situation would not change until Suárez apologized for his "total disrespect of the club" but it is understood the 26-year-old took that step with his team-mates on his return from Uruguay's friendly in Japan.
The Liverpool striker is also due to hold talks with Rodgers on Friday. While that relationship has been strained, and Suárez denied midweek reports in Uruguay that he had decided to remain at Anfield, he has been given little alternative but to accept his immediate future lies at Liverpool by the club's refusal to sell.
Liverpool has consistently stated their prized asset is not for sale and the principal owner John W Henry reinforced that position last week when he announced no offer from Arsenal, or a European club, would prise Suárez away so late in the transfer window.