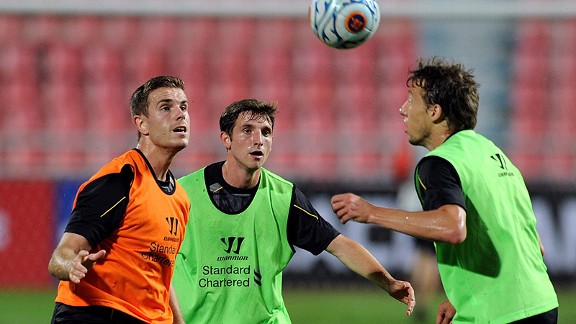 The names of Steven Gerrard and Lucas Leiva are etched in stone when it comes to Liverpool's midfield, but a fascinating battle is now raging to claim the final vacancy in the Reds' three-man engine room.
While the sublime Philippe Coutinho is the obvious selection any time Brendan Rodgers goes with a more adventurous lineup, things look a lot less clear cut any time the Reds' boss opts for his favoured 4-3-3 system as he faces a tough choice between in-form pair Joe Allen and Jordan Henderson.
Henderson had looked to be in pole position after the way he ended last season, but Allen's return to fitness has seen him restored to the side in preseason and he's been in fine fettle. So too, however, has Henderson, and with both of them finding the back of the net in Gerrard's testimonial at the weekend, the competition between them is really hotting up.
In terms of style, Allen and Henderson are vastly different players, but they do have some things in common. They're roughly the same age, play the same position, they cost considerably more money than they were probably worth at the time and they had difficult first seasons at the club, having often been used in roles that weren't necessarily their strongest. That's where the similarities end; Allen's main assets are his passing and close control, whereas Henderson relies more on his athleticism and strong running beyond defences.
Based on recent team selections, it looks as though Allen may have edged ahead of Henderson in the pecking order. As things stand, it's "advantage Allen," but Henderson still has time to force the manager into a rethink. Scoring with his first touch against Olympiakos on Saturday is as good a way to do that, but Allen also got himself on the scoresheet and with better finishing would have had at least one more goal to show from a fine individual first-half performance.
It's nice to see Allen back and playing well as I thought he took a lot of unfair stick last season. His form did drop off significantly and the criticism that came with that was mostly warranted. However, it seemed to be overlooked by many that in the early part of the season he was arguably Liverpool's best player, so that suggests the issue was related to form rather than ability.
The injury to Lucas meant Allen had to change roles very early on, but he still managed to impress. While not exactly physically equipped to play as a holding midfielder -- there were definite shades of 'Scrappy Do' about him as he attempted to stop a marauding Abou Diaby in a home defeat to Arsenal -- Allen generally held his own and earned plenty of plaudits early on.
Despite a string of man-of-the-match awards, Rodgers made the point that this was not Allen's true position and that he would be "50 percent better" when he returned to the role he was bought for. It never worked out that way though, as Allen's form took a bit of a nosedive from November/December onward and the criticism began to mount.
It didn't help that he had been described by Rodgers as "the Welsh Xavi" and was seen by many as being the manager's blue-eyed boy. For fans who weren't sold on Rodgers, Allen was an obvious target when his form fell off a cliff.
He'd just become a father and that was mentioned by Rodgers as a possible reason for the drop in quality of his play, but that seemed like straw-clutching. As we would later find out, there was a much more valid reason for Allen's struggles, but the club wanted to keep it quiet for as long as possible.
The £15 million (about $23 million) man had a shoulder injury that would eventually require surgery, but Rodgers was worried that opponents would target Allen if this became public knowledge, and the story was kept under wraps for a couple of months, before first-team coach Mike Marsh eventually let it slip in an interview with the club's website.
Strangely, Allen's role hadn't changed much even after Lucas returned. He didn't seem to have any real license to get forward, and what made it even more baffling was that when Henderson played as the third midfielder, he was pushed right up the pitch and was almost playing off the striker at times. Why not let Allen do that too? After all, he'd be "50 percent better" then.
Yet the only occasions Allen played in that role were a brief, impressive cameo against Sunderland and also the Europa League game against Zenit, when Liverpool won 3-1 at home; he scored and regularly got forward to good effect.
We don't know exactly how much the injury affected the player's form, or indeed the role he was asked to play, but as with Raheem Sterling, before he was injured Allen was playing very well, then afterward he simply wasn't.
A truly wretched 45 minutes against Southampton was the last we saw of the midfielder until this preseason, but now that he's injury-free hopefully he can recapture the form he showed a year ago. He's certainly looked sharp in preseason and his return to form is helping to provide the kind of competition for places that Rodgers has been striving for.
Henderson is certainly not afraid of competition, as he's shown already. This time last year he was way down the pecking order, with Lucas, Gerrard, Allen, Nuri Sahin, Charlie Adam, Jay Spearing and Jonjo Shelvey all ahead of him. He was even offered to Fulham as part of a proposed deal to sign Clint Dempsey, and his days at Anfield looked to be numbered.
He turned that move down, insisting that he wanted to stay and force his way into the side. Against the odds, that's exactly what he did and three of those who were ahead of him have since left the club, while a fourth (Spearing) will presumably soon follow.
You always hear stories about how hard Henderson works on his game and what a dedicated lad he is, and it's great credit to him for forcing his way into the manager's plans when many (myself included) doubted whether he had what it takes. His maniacal goal celebrations are fantastic to see, and even in a testimonial game he gave it the beans after scoring in front of the Kop. You've got to love that.
In the second half of last season he made a number of valuable contributions, mostly away from home, where his ability to run into the space left by opposing defenders who hold a much higher line at home than at Anfield can be utilized. Goals at Arsenal, Villa and Newcastle all came from his surging into the kind of space that Liverpool rarely get when opponents sit deep.
With that in mind, perhaps we'll see Henderson feature more away from home than at Anfield. Much will depend on what system Rodgers is using, and I suspect he may adopt a "horses for courses" approach this season in terms of his starting formation.
Sometimes we'll see the 4-3-3 he used for much of last term, but we'll also see some variations of it, possibly with Coutinho playing behind two strikers as he did last week in Melbourne, and I'm sure we'll also see plenty of the 4-2-3-1 that worked to good effect in the latter part of the season.
With Lucas and Gerrard the clear first-choice options, Allen and Henderson are unlikely to be in the side every week, and there will be times when both miss out. On those occasions when a third midfielder is required, though, it's certainly not going to be easy to choose between the two if they maintain the form they are currently showing.
Rodgers won't mind that, as having two young, ambitious players going head-to-head for a place in the side can only bring out the best in both of them, and that can only be good for the club. May the best man win.