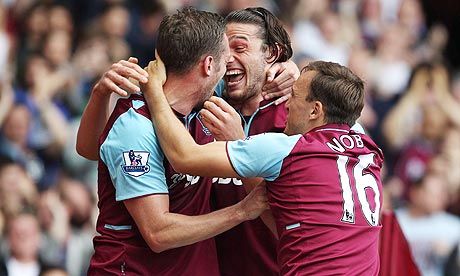 Liverpool have accepted a £15m offer from West Ham United for Andy Carroll, a £20m loss on their record transfer fee inside 28 months, but face a struggle to convince the striker to sever his Anfield ties for Upton Park.
Carroll enjoyed an impressive, yet injury-hit season on loan with Sam Allardyce's team, who has moved quickly to sign the 24-year-old on a permanent basis following the end of the Premier League season.
West Ham are prepared to pay a club record transfer fee to sign a striker that Allardyce intends to build a team around, while Liverpool want to sell Carroll to generate extra transfer funds for Brendan Rodgers.
The two clubs have agreed a deal lower than the £17m that Liverpool wanted which was written into Carroll's loan agreement when he reluctantly moved to east London last August, although they did receive a £2m loan fee and West Ham covered the striker's £80,000-a-week wages.
It is also a significant reduction on the £35m Newcastle United received from Liverpool for the 24-year-old in January 2011.
Rodgers made it clear to Carroll last summer that he would not be a regular starter at Liverpool but, despite signing off from West Ham on Sunday with a tweet that read "enjoyed every minute of being at west ham" the striker is not sold on the idea of a permanent move.
After he played a leading role in West Ham's 4-2 win over relegated Reading at Upton Park on Sunday, his manager Sam Allardyce emphasized how keen the side were to sign him permanently. "If we can start with Andy Carroll that would be a great achievement for us as he can only get better and better," Allardyce said.
"Then we build around that in terms of how we want to improve next year, with better quality.
"It is our target to make it a permanent situation."