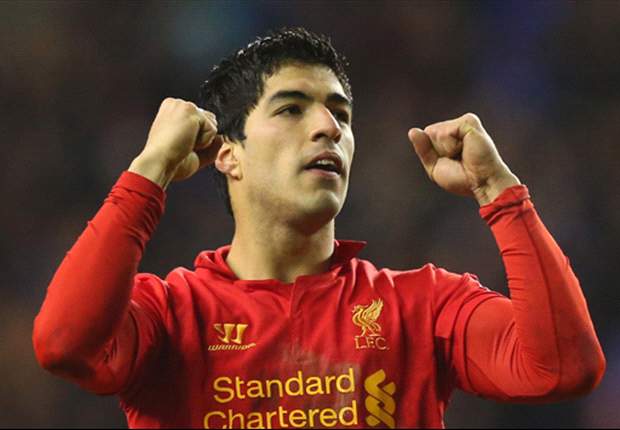 The Anfield boss believes the Uruguay international is happy at the club but is expecting the forward to attract interest from sides during the summer transfer window
Brendan Rodgers admits Liverpool face a battle to hang on to Luis Suarez this summer, but insists they are under no pressure to sell their star man.
Goal exclusively revealed in April that the Reds would be willing to sell the Uruguay international if they receive an offer in excess of £40 million.
Juventus, Paris Saint-Germain and Bayern Munich have all been linked with a move for Suarez in the upcoming transfer window, but Rodgers maintains Liverpool must strive to keep the forward at Anfield.
"Listen, every player has their price but there's certainly no pressure for the club to sell him. We're trying to build that bit of quality so he's not for sale," Rodgers told reporters.
"I don't have any doubts there will be interest in him this summer, because he's up there.
"People will want to take him, but I think we all recognize how integral he is. The owners have been absolutely unequivocal in their resolve in terms of wanting to keep him.
"I had a meeting with the owners when they came over and talked about lots of stuff and that was one of them."
Rodgers believes Suarez, who will serve the remaining six games of his 10-match ban at the start of next season, is content to stay at Anfield, despite a lack of European football.
The Liverpool boss also feels the club's unwavering support during the 26-year-old's controversial incidents should influence his decision when approached by other sides.
"There's a small percentage of players who are world class and he's in that bracket, so I don't think it will be too dissimilar to when I first came in last summer, with clubs making their interest known," Rodgers said.
"But he was committed to staying and working with the club. He's very happy here. He had circumstances that made it extremely difficult for him but I've seen nothing to make me think otherwise.
"The supporters show their passion for him relentlessly so, as a club, I don't think we can do any more.
"We have supported him when he's been in turmoil and when he's had setbacks, when there have been traumas over the last couple of years. He knows he did wrong.
"I've been in contact with his agent so I think he needs to go away, play in the Confederations Cup with Uruguay, have a period of reflection and come back raring to go to help us have a good season."