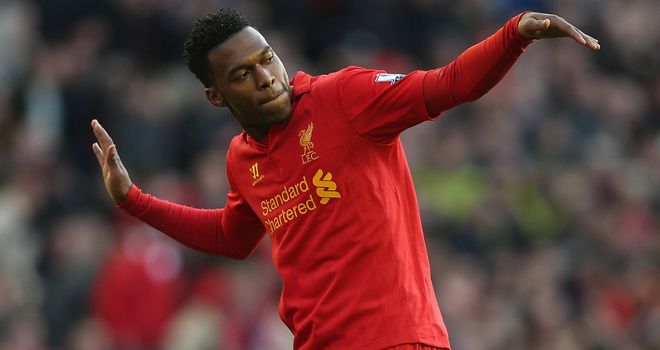 Liverpool manager Brendan Rodgers felt the half-time introduction of Daniel Sturridge made the difference as his side came from behind to draw 2-2 with Chelsea.
In a game overshadowed by Reds striker Luis Suarez biting opponent Branislav Ivanovic, the home side trailed at half-time to Oscar's opening goal.
Sturridge was brought on for the second half and scored within seven minutes, although the home side also needed a second late leveller from Suarez to earn a point after Eden Hazard's penalty had restored Chelsea's lead.
Rodgers was pleased with the second-half effort from his players, particularly 23-year-old former Chelsea striker Sturridge.
"I thought Daniel was outstanding in the second half and as a team we were much more aggressive," said Rodgers.
"We had one or two moments where we showed intensity but I felt bringing Daniel on in the second half, playing with a narrow four in midfield and letting him move and work around Luis Suarez, would give us more of a threat.
"In the first half we were too slow. We played with three midfield players to control the game and we never had any real control - our passing was loose and sloppy.
"I think it shows the character in the group, to come from behind. We made two mistakes for their goals - we're disappointed with the goals that we gave away.
"I can only commend the resilience of the players. To get back into the game at 1-1 and go behind again to a penalty might have made them flat for the rest of the half.
"I thought our second-half performance was outstanding; our tempo was much better, we were more aggressive in our attack and we thoroughly deserved at least a point from the second half."