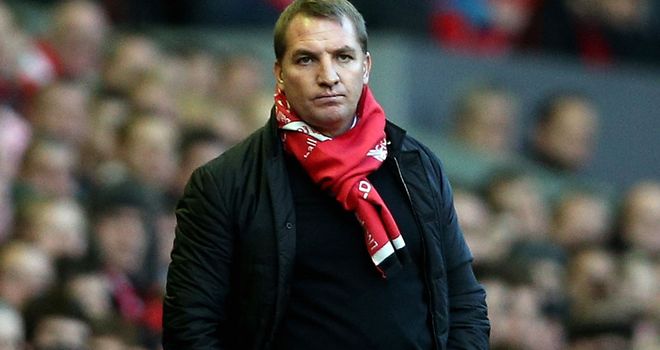 Liverpool manager Brendan Rodgers has warned that the club's struggles are unlikely to be solved in the January transfer window due to a lack of 'availability and affordability'.
Rodgers' erratic debut season at Anfield continued on Saturday as Liverpool slipped to defeat against Aston Villa to leave them 12th in the Premier League.
The Reds have been linked with a host of transfer targets ahead of the upcoming transfer window as they look to turn things around and climb the table, with only five points between them and fifth place.
Chelsea striker Daniel Sturridge and Blackpool youngster Thomas Ince are among the players thought to be on Rodgers' radar as he looks to bolster his limited attacking options.
But while the boss intends to strengthen in January, he insists many of the names being linked with the club are not necessarily realistic options and does not predict a quick fix.
He told The Independent: "There is a bigger picture for sure and it goes back to affordability.
"We will spend money in January to try and bring fresh faces into the group and give us that support at the top end. But the reality [about] all the names bandied about is 'Are they going to be available?' Certainly we will bring in what we can and help us and then we will revisit it again.
"All our problems were never going to be solved in this window because the January window is one of the least productive and the least movement goes on there. But we will look to solve some of our problems then and then we will look to revisit it in the summer knowing that in the summer we will be better placed than the previous summer."
He added: "There is no doubt we will get reinforcements in and there is no doubt that we will get the backing, but it will come down to two things. The availability and affordability of players - I see lots of names bandied about that are pie in the sky because there won't be too many top players moving about in January because clubs want top money. But there is no doubt that we want to bring in goals and we want to bring in players who can assist in scoring goals.
"If we can do that then that will set us up and then we can really reinforce when the transfer market opens up in the summer again."