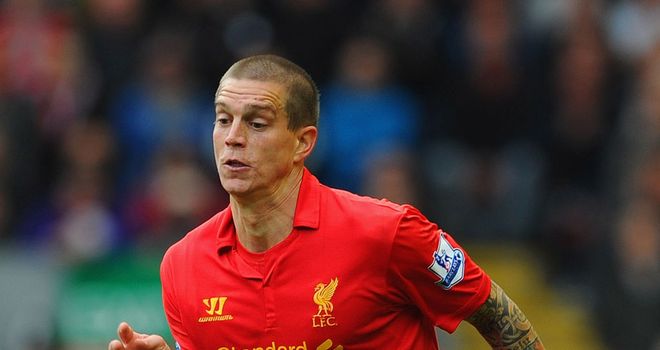 Liverpool star Daniel Agger insists he is in the best shape of his life.
The Danish defender has been seen as injury-prone during much of his Anfield career, but he has now played 13 league games in succession - his longest run since joining the club.
Indeed the only game Agger has missed was down to suspension after he was sent off in the opening match of the season at West Brom, and he admits he has changed his approach.
"I always enjoy playing football. It is being on the pitch not outside and the last year or so it has been good for me," said the centre-back.
"You learn all the time when you are playing football and I am doing some different things than I did a few years ago.
"I am trying to look after myself better and it is helping. It is just things like the way you train, work in the gym, how you recover - and I think that is the most important thing.
"It is also helping with the team around us, the physios and the manager giving us time to recover because that is always difficult in this league.
"When you are playing so many games it is hard to recover. You need to use the time well and the manager is really good at that."
Agger scored his first goal of the season to clinch the three points against Southampton and he knows he and his team-mates are going to have to contribute more.
Leading scorer Luis Suarez, who has 10 Premier League goals, is suspended for the weekend trip to West Ham and without another fit recognized senior striker Rodgers will have to find another way of maximizing their chances.
"Everyone knows Luis is a quality player and if you lose one of those it is a big miss," said Agger.
"Hopefully another player will step up because if you want to move up the table not just one player can get goals. It was nice to get on the scoresheet - it is about time - and of course I want to contribute more."
Agger also believes Liverpool are playing better under new boss Brendan Rodgers, even if results have not really backed that up.
After 15 matches of the season Brendan Rodgers' side are 11th on 19 points, 17 behind leaders Manchester United and seven adrift of Champions League qualification having won only four games and drawn seven.
A year ago, under Kenny Dalglish, the team was sixth, 12 points off the top and just three behind fourth place with seven victories and five draws.
There is more of a similarity between the two regimes in relation to their failure to convert chances despite dominating games but Agger thinks they are better now than then.
"The last couple of games we've played really well," said the Denmark captain.
"I think the Tottenham game (a 2-1 defeat last Wednesday) was one of the best games I've played in for a long time - we played them off the pitch.
"Confidence is a big thing here and I think we have it. We are brave on the ball, want to go forward and we are not just playing around and I think that is the difference.
"I think we are creating more chances than last season. I don't see the statistics but the feeling on the pitch is we are creating bigger chances.
"It is difficult to compare two seasons but it is feeling better now."