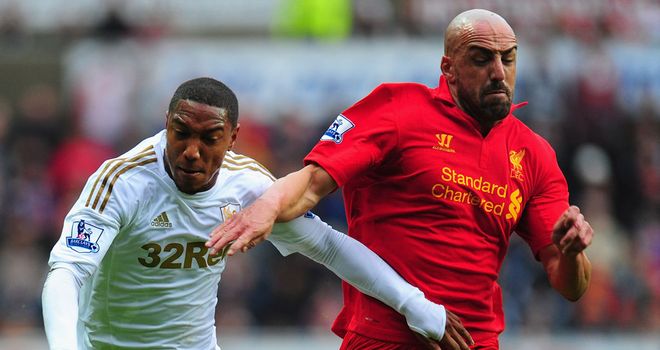 Jose Enrique claims he never feared for his Liverpool future and is enjoying life at the club.
The Spaniard appeared to have fallen out of favour at Anfield after a slump in form but is back in the team and performing impressively for the Reds.
"Football is for moments and now I am playing well so I hope I can continue like this and help the team as much as possible," he said.
"Last year, up to December, I played really well and then I don't know why I dropped my form.
"Now I've started to do it again and it is more important to think in the present and live from now and I will try to do my best now.
"To be honest I've never been worried because I've always believed in myself.
"From the start I had knee problems so I have to prove myself with the manager; you have to do that always.
"It is not what you did before, it is what you do now. Every time you have to play well - if not there are players who will play better than you do.
"But I am really happy here. It is the biggest club I've played for, the fans are amazing and I really like the city so of course I want to play here for a long time."
Enrique had not made a promising start under new boss Brendan Rodgers and saw Glen Johnson and Stewart Downing preferred at left-back.
But the 26-year-old has found a new role on the left side of midfield playing off Luis Suarez and claims he will play anywhere as long as he is in the team.
"I like to play there but to be honest my position is left-back, it is where I am more comfortable and is where I have been all my life in the Premier League," he added.
"Of course, you enjoy it when you attack and I don't have to defend that much and playing there with Luis is really easy as his movement is everything and he is a really clever player.
"But it depends on where the manager wants me to play - I don't care where.
"It is the manager's decision and if you are not happy you go. He preferred Glen or Stewart before and I have to respect his decision.
"I did what I always did - train as hard as I could and to try to get my chance like I have now. I am playing now so I am happy but I still have to improve in myself."
And the former Villarreal and Celta Vigo player has plenty of praise for Rodgers' tactics, hailing him as the best coach he was worked with in the Premier League.
"From the start he is the best manager I've had in England in terms of tactics and everything," he said.
"Tactically he is like the Spanish. It reminds me of what happened at Villarreal. He has a mentality like a Spanish manager and I really like that."