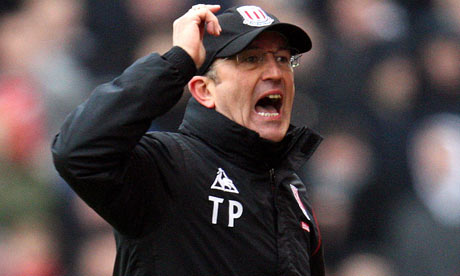 Tony Pulis hit out at Luis Suarez after the Liverpool striker appeared to commit a blatant dive in the 0-0 draw at Anfield.
The Stoke boss has previously led calls for players to be banned by the Football Association for acts of simulation.
Pulis said: "The one in the penalty box was an embarrassment and how he wasn't booked I don't know. It was really, really disappointing.
"I think that should be highlighted, as I have said before. The FA should be looking at this. Give him three games (banned) and he will stop falling over."
By contrast, Pulis had nothing but praise for Suarez's team-mate Glen Johnson for his reaction to an earlier clash.
He added: "There was a challenge in the first half in front of us, Jon Walters and Glen Johnson both went up for a header, it was a proper old-fashioned challenge.
"Glen Johnson did absolutely fantastic, just bounced back up on got with the game, it was a proper, proper challenge.
"I went over to him and said 'well done, brilliant' - not only did he play exceptionally well but his behaviour was fabulous."