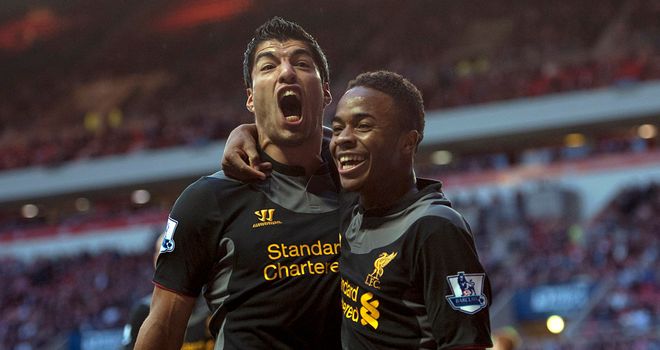 Liverpool boss Brendan Rodgers admits Luis Suarez will have to be 'careful' with his discipline but does not want him to change his style of play.
Suarez picked up his third booking of the season in Saturday's draw at Sunderland after referee Martin Atkinson adjudged the striker to have dived in the box to try and win a penalty.
Suarez is now just two bookings away from a suspension, but Rodger insists he cannot look to temper the 25-year-old's fire and passion for the game.
"You are always trying to educate players and talk to them," said Rodgers. "That is part of what makes him and he is on to three now so he'll have to be careful.
"I have no complaints, I read from the outside all these reports about Luis Suarez but he has been an absolute pleasure to work with from the first day I came in here and he is a good guy who works very hard every day and gets his rewards on the field.
"He is an emotional guy, he runs on emotion, as some players do."
Rodgers is also keen to manage expectation levels surrounding Raheem Sterling after another eye-catching performance from the youngster at the Stadium of Light.
The Reds chief is trying to keep the winger's feet on the ground and he has hailed the 17-year-old's attitude to learn and improve.
"I am sure it is difficult for him to take it all. You get a lot of adulation for playing well but him and I communicate which is part of me trying to keep him level-headed and making sure the whole situation does not distort his reality," said Rodgers.
"The reality is he is an exceptional talent, we want to nurture and make sure he is around for many years, not just for a few months and he is a good kid, he is a good listener which is important, he is a really, really good lad.
"It is our job to manage him and manage the expectation and just let him concentrate on his football.
"He is a very level-headed boy. He doesn't waste his time doing stupid things, he comes into work with the first team and listens to the senior professionals, he is happy to listen to the coaches and it has been quite straightforward with him, and his performances have done the talking and he has come in every day to work and worked well.
"We know he still has a mountain to climb to be a top player but what we are seeing at 17 years of age is the early stages of his career and he is going to be a real talent."