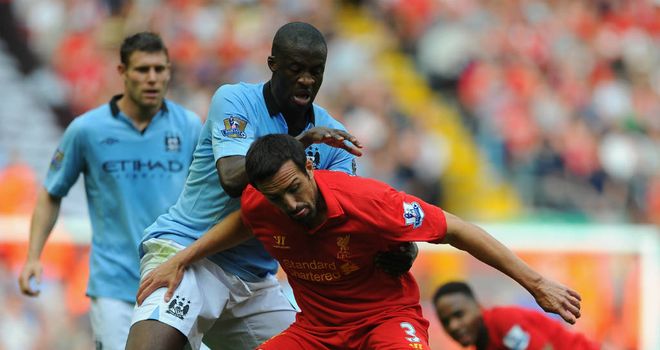 Jose Enrique is confident Liverpool will pick up plenty of points this season if they continue to perform to the same level as against Manchester City.
Liverpool twice led against the Premier League champions at Anfield on Sunday only for two defensive mistakes to allow City to salvage a 2-2 draw.
New Reds boss Brendan Rodgers is trying to implement a fresh approach on Merseyside and Enrique believes that, given time, it will reap rewards for the club.
"We are trying but there is still time - because there is a new manager we need time - but if we can play like this I think we will get many points," said the Spanish full-back.
"The best team in the world is the best example - Barcelona.
"You can see against Real Madrid a few days ago, how when they have the ball it is amazing and when they lose it, within three or four seconds they have it back. This the way we try to play.
"We can't compare with Barcelona - they are different, but we are trying to play like this. We are starting to learn but we are learning well."
Enrique also felt the overall performance of the team against City offered great encouragement for the rest of the season.
He said: "I think we did well. I think we deserved to win but we had two mistakes - that can happen in football.
"But then we got a point against Manchester City and that is not a bad point, of course.
"They were the best last year, which is why they won the league. I think we did better than them and I think this is the way we have to play this year."