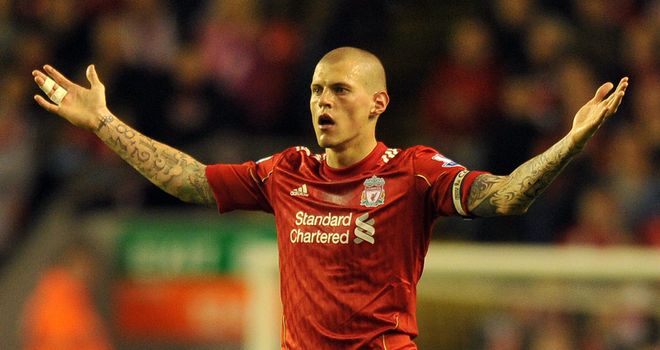 Liverpool defender Martin Skrtel insists he will be fit in time for pre-season after undergoing nasal surgery.
The Reds' player of the year missed the defeat at Swansea on the final day of the season but has no doubts he will soon recover.
"I am a little bit better now, but still not good as I still feel some pain in my nose," Skrtel told Liverpool's official website. "I hope it is going to be better in a few days.
"You're always disappointed when you miss any game, not just the last one, but we made a decision to do the surgery after the Chelsea game, miss the last game of the season and take some time for the recovery so I could be fit for pre-season.
"It was disappointing, but it was the surgery I needed."
Despite Liverpool's stuttering season, in which they lost 11 of their 19 Premier League games in 2012, Skrtel enjoyed his best campaign for the club - usurping Jamie Carragher at the heart of defence.
The 27-year-old scored a crucial equalizer against Cardiff at Wembley to help Liverpool on the way to the high-point of their season, lifting the Carling Cup in February.
And while disappointed with events at Anfield, the Slovakia international is pleased with how his game has developed.
He added: "From a personal point of view, I think my performances were alright - but the most important thing is the team. The team didn't do well and that is disappointing for me.
"I think the goal in the Carling Cup final was my highlight of the season because we were losing 1-0. I scored to make it 1-1 and helped the team to win the trophy.
"I scored more goals, so that is the main thing. In the past I didn't score too many goals, but this season I scored four. I think that's not bad for a defender.
"If I look at my game, I think I played more aggressive than I did last season or the one before that.
"That's good because a defender has to be aggressive, so I have tried to improve on it and I think I did."