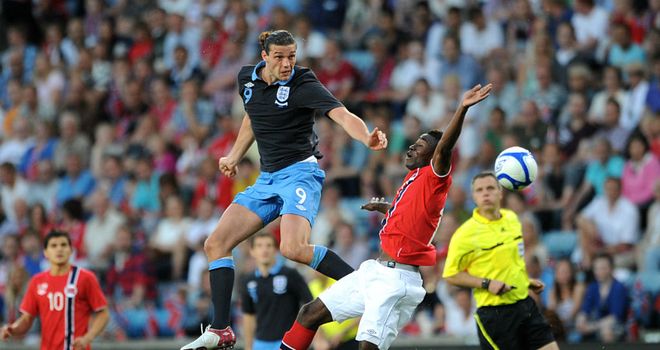 Andy Carroll is determined to make the most of his England opportunity, with there every chance that he will lead Roy Hodgson's line at Euro 2012.
The Liverpool striker was handed a starting berth on Saturday as Hodgson's reign as Three Lions boss began with a 1-0 win over Norway.
Carroll's fine form towards the end of the Premier League season has earned him international recognition, and the burly frontman is ready to prove that he can cut it at the very highest level.
The 23-year-old has struggled to produce his best form since completing a £35million move to Anfield in January 2011, but he would appear to be edging back towards his best form and claims he is ready to help cover the loss of Wayne Rooney to suspension during England's opening two fixtures at this summer's European Championship.
Carroll, who set up Ashley Young's winner against Norway, said: "It's a great honour to be involved with England. This is what I want to be involved in during my career.
"Now I've got a chance to show what I'm about. I thought I did well. We've got a big squad and loads of quality players but I gave it my best shot and we'll see what happens.
"The season is over for everyone not involved in this (Euro 2012) and it's great for me to carry it on and I want to do well if given the chance.
"The way Roy Hodgson has played at his clubs, he wants a big man up front and he has picked me, so that is great."
Carroll says he always believed that he would come good at Liverpool and force his way back into the England fold, silencing those who were quick to write him off.
He said: "I always believed in myself but things weren't going too well for me.
"The price tag meant nothing to me. I just signed for a new club and it was hard to fit in straight away.
"I came into Liverpool when injured and it was hard for me to get my fitness back but I didn't think about the price at all.
"I don't think about those sort of things. I know what I'm about and, as soon as I got my fitness up, I've started to show it."
Carroll added: "I didn't play as many games as I would have hoped but towards the end of the season, I got a run of games and did well - and now I'm here.
"Training and playing gets your confidence up, certainly after a good game, and I carried on from there.
"I feel a lot fitter now than I did at the start and halfway through the season.
"I never got many games in a row and towards the season I did and that helped a lot.
"I'm feeling good, feeling fresh. From the end of the season, I felt good, felt like I was moving a lot better and getting involved in games more than earlier in the season."