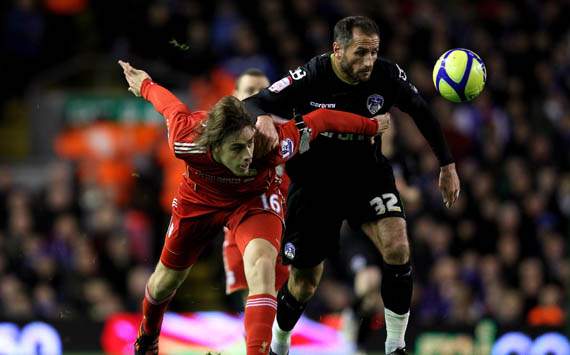 Oldham Athletic manager Paul Dickov has hit out at referee Neil Swarbrick's decision to award a penalty to Liverpool in his side's 5-1 defeat to the Reds at Anfield.
With the game at 1-1 on the stroke of half-time, the referee awarded the hosts a penalty, which was converted by Steven Gerrard, after an apparent push by Tom Adeyemi on Maxi Rodriguez.
Dickov said: "The penalty's a joke. I thought he [Maxi] fell over, Tom's [Adeyemi] looking at the ball, there's no chance he can see him. I've been told by the referee that he's got two hands and pushed him in the back, which is never a case.
"I know by the reaction of my players, especially when decisions go against them, they are an honest bunch. If they come in at half-time and Tom would have held up his hand and say 'sorry' then the boys would have said 'yes it was a penalty', but they were livid it was given, just before half-time as well."
Liverpool, who had levelled thanks to a quickfire Craig Bellamy goal in the first half after a stunning opener from Oldham's Robbie Simpson, went on to score second-half goals through Jonjo Shelvey, Andy Carroll and Stewart Downing after Gerrard's penalty.
Dickov expressed his delight at his side's start to the game and suggested his players may have lost their discipline after conceding so soon after scoring.
The 39-year-old said: "I thought the first 20-25 minutes we played some tremendous football, we had three or four really good chances before we scored.
"Thirty seconds after we score our goal we concede, it puts you on the back-foot. Then as a group I think we lost our discipline a little bit, the things that put us in front and created us chances and a disciplined performance off the ball, but with making the right decisions and passing the ball that got us in front.
"Then we started lashing at things and hitting long balls which are things we never practice."
However, Dickov paid tribute to his players for having a go at the Premier League outfit, conceding they were killed off when trying to push forward.
He added: "They picked themselves up, I told them to keep doing the right things. We know what a good team Liverpool is so we just wanted them to have a good go.
"But the third goal kills us. We put as many forwards as we can on the pitch being a cup game trying to put ourselves back in it, but they broke away twice and scored the fourth and fifth which I was gutted about, which doesn't reflect the performance my boys put in."