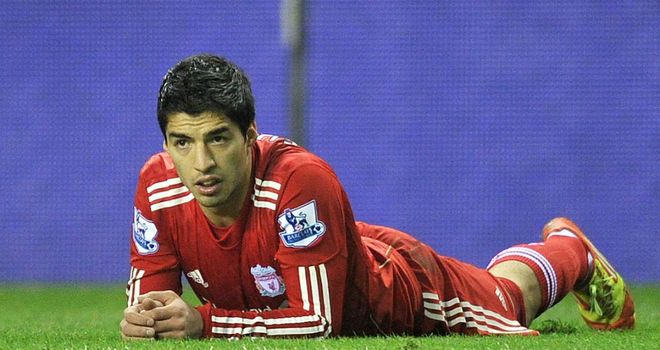 Kenny Dalglish insists Luis Suarez has never been a disappointment for Liverpool, as the storm of controversy continues to surround the striker.
The Uruguayan started his club's 0-0 draw at Wigan on Wednesday less than 24 hours after being hit with a Football Association ban of eight matches and a fine of £40,000 for allegedly racially abusing Manchester United's Patrice Evra.
Suarez was unable to influence the match at the DW Stadium and was targeted by Wigan's fans with incessant booing and chants, leaving Dalglish less than impressed with the home followers.
But the Liverpool boss is adamant he will never have any complaints about Suarez, who was a £22.8million signing from Ajax in January 2011, as the club consider whether to appeal his FA punishment.
"It is all very well and good telling players to control themselves. I think the FA better start controlling crowds," Dalglish told Sky Sports in his post-match interview when asked about Suarez's display of character.
"But Luis Suarez is somebody that has never disappointed us since the day he came in the door and he won't ever do that."
Charlie Adam saw a second-half penalty saved by Wigan goalkeeper and man of the match Ali Al Habsi to ensure Liverpool's miserable run of form against their North West rivals continued.
It was the fourth time out of five that the Reds failed from the spot this season, but Dalglish played down any concerns about the issue.
He joked: "I suppose the goalkeepers are helpful, aren't they? If they don't put a goalkeeper in, then we have got a chance.
"We are not out there to miss penalty kicks, but at least we are getting them. Obviously we would much rather we put them away.
"It is the difference between maybe one and three points."