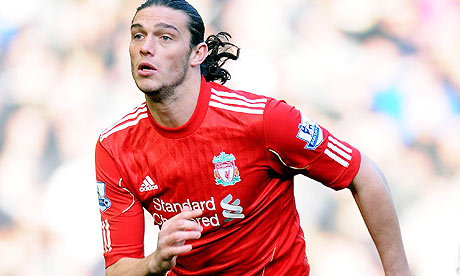 Liverpool boss Kenny Dalglish has praised Andy Carroll after the striker made his long-awaited debut for the club in the 3-1 victory over Manchester United at Anfield.
The £35 million record signing came on as a substitute in the 74th minute with the game all but won for the Reds, and Dalglish feels that although the former Newcastle man has to "temper his enthusiasm a bit", he can go on to become a Kop legend.
He said: "He is a good guy. He is not someone who thinks he is superior to anyone else, he just loves playing football and wants to be part and parcel of the club.
"We have to temper his enthusiasm a bit. He is only a young lad, he is going to be big player for this club."
The victory moved Dalglish's side up to sixth in the table but the Scot has insisted that his side have a long way to go before they will be at their arch rivals' level.
He said: "Manchester United are a benchmark for everyone, are they not still top?
"There is no-one who would rather be in their own position than United's.
"The closer you get to the top the more difficult it is to close the gap.
"Moving from 20th to sixth is not as big a problem as moving from two to one so the higher you go the more difficult the step up is.
"United are a great benchmark but our season is not finished.
"We got our reward for the victory in three points in the league, but we just want to keep going and get as many as we possibly can.
"The owners [Fenway Sports Group] are determined to move the club forward within reason. Whatever that is going to be, they will do their best to provide it.
"But the players who played there did not do themselves any harm in terms of being part of the club going forward."
The victory was somewhat of a revenge story for the Scot after Sir Alex Ferguson's side knocked the Reds out of the FA Cup in Dalglish's first match since taking over from Roy Hodgson in January, but the Liverpool chief said that the games were completely different affairs.
He said: "It was a totally different story. They got given a penalty after a minute and we had our captain sent off after 30.
"It was really different to what this was but everybody was disciplined, well tuned in to what they had to do, wanted to do it and did it."