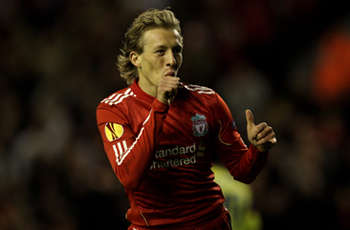 Liverpool manager Roy Hodgson has revealed that the club has plans to hand midfielder Lucas a new contract.
The 23-year-old has been impressive for the club this season, and has forged a good partnership with Raul Meireles in the centre of midfield in the absence of skipper Steven Gerrard.
And their partnership has even sparked talk as to whether the Reds captain should return to his previous position of playing behind Fernando Torres when he returns from injury.
"I think there are plans to give Lucas a new deal," Hodgson was quoted as saying by the Liverpool Daily Post.
"[Directory of football strategy Damien Comolli] mentioned to me about getting in touch with his agent to get a new contract sorted out.
"Certainly if you ask me the question 'is Lucas welcome at the club and would we like to keep him?' then the answer is a resounding yes."