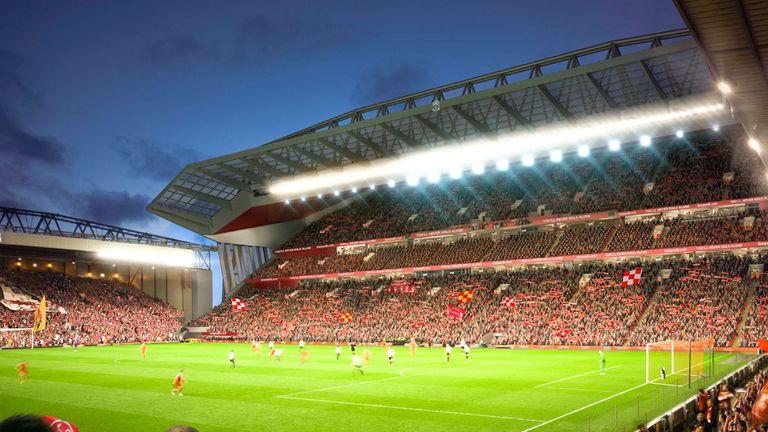 Liverpool have unveiled their stadium expansion plans for the redevelopment of Anfield which could eventually boost capacity at their home of 112 years to almost 59,000.
The Reds announced in October 2012 that rather than move to a new stadium, they would prefer to redevelop Anfield and would work with Liverpool City Council to transform the surrounding area through a comprehensive regeneration plan.
Detailed proposals for an expansion of the Main Stand and outline proposals for an expansion of the Anfield Road Stand will be on show at exhibitions and a public consultation scheduled for this week.
The exhibition shows detailed design proposals for the proposed Main Stand redevelopment which include a newly-created public concourse and a carefully designed cloister which will become the new home for the Hillsborough Memorial.
The redevelopment could add an additional 8,500 seats taking the Main Stand's capacity to nearly 21,000 and overall Anfield capacity to around 54,000.
The outline proposals for the Anfield Road Stand provide for an increase in its capacity of around 4,800 seats.
The club are inviting residents, fans and local businesses to give their views as part of its planning application, which the club expects to submit to Liverpool City Council this summer.
Ian Ayre, managing director of Liverpool Football Club, said: "As part of our proposed Stadium redevelopment project, we have unveiled the detail of our ambitious plans for an expanded Main Stand and Anfield Road stand and are embarking on a consultation process which will shape and inform our planning application.
"In order to move forward with our expansion plans we need to have certainty that we can navigate the complex planning process and secure the support of the community, local home owners, businesses and other key stakeholders. This consultation exercise is an important part of this process.
"We started this journey just over 18 months ago and a lot of work has already been done, there is still an incredible amount to do, but good progress has been made so far and we are proud to be able to unveil our plans."
Liverpool City Council has confirmed that negotiations with property owners are progressing well and all parties are close to agreement but there are still details to be finalised.
Subject to agreement and planning consent being reached, construction work on the proposed Main Stand could begin early next year and it could be complete in time for the 2016/17 season.
Mayor of Liverpool, Joe Anderson, said: "This is another important step in our ambitions to transform the Anfield area, bringing new jobs, investment and housing.
"The overall regeneration of Anfield will see £260m invested in the local community and will deliver hundreds of jobs - Liverpool Football Club's proposals for the stadium are a key part of this.
"We are all committed to delivering a brighter future for Anfield and the Club's exhibition is a clear signal that real progress is being made with all our plans."
Brian Cronin, chief executive of Your Housing Group, said: "This is another significant step in the process for the Anfield Project and we welcome the headway which is being made by all parts of the partnership.
"It's doubtless that many of our residents are very keen to see the plans and see how the new stadium might look and we are committed to making this happen."