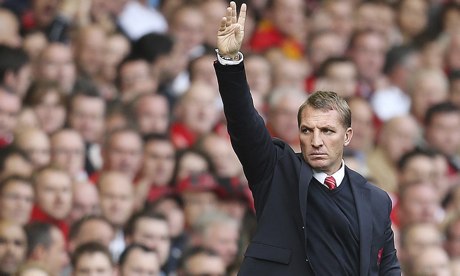 Another ruthless display from Luis Suárez and Daniel Sturridge returned Liverpool to the top of the Premier League with a 3-1 defeat of Crystal Palace, but Brendan Rodgers reprimanded his side for their "lack of control" at Anfield.
Suárez marked his first competitive home appearance since collecting a 10-match ban in April with a fine opening goal for Liverpool, his third in two league games since returning from suspension. Sturridge scored his eighth of the season in front of the watching Roy Hodgson and was declared fit afterwards for England's World Cup qualifiers against Montenegro and Poland.
With the exception of his "SAS" strike force, the Liverpool manager was unhappy with his team after Palace missed several excellent chances before Dwight Gayle's late consolation. Rodgers, who kicked a collection of water bottles in disgust when Liverpool was leading 2-0, said: "In the final third it was very good. Those two boys up front [Suárez and Sturridge] are as good as anything in the league. We took our goals well but the second half was nowhere near where we wanted to be. In my first season we were guilty of playing well and not getting the result. Here we got the win without playing great."
Rodgers said the display rekindled memories of one of his most disappointing experiences in football, despite Liverpool replacing Arsenal at the Premier League summit. "I am not the type of coach who only wants the win" he said. "It reminded me of a performance I had when I first became a manager, when I knew it had to be about more than just winning. At Watford we beat Swansea 2-0 at Vicarage Road. Everyone was elated and it was named the performance of the week but I was so disappointed because we didn't keep the ball well. This was like that. Our movement and combinations in the final third was good but the lack of control behind that was very disappointing."
But the Liverpool manager was lavish in his praise for Sturridge and Suárez. He added: "There are not many better in this league. Their movement and understanding was outstanding. They give us a real thrust on the counterattack away from home with their pace and they are clever against teams who defend deep here. They have a telepathic nature and with them anything is possible."