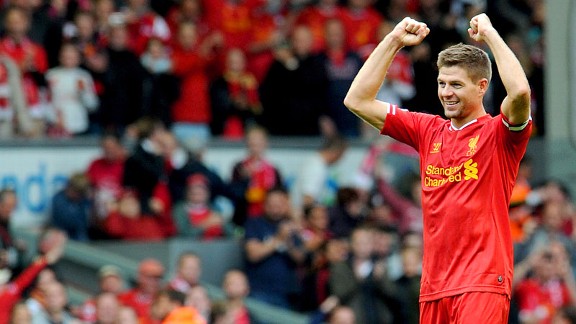 Even after hosting the champions with a one-legged player up front -- albeit a fine one of limitless endeavour and goal-scoring ability -- Liverpool's trip to Swansea City on Monday represents their hardest game of the season so far.
This is not an extempore exclamation to keep the veil of pretentious intelligence lifted high, nor is it a forlorn attempt to engage in the mindset of a football hipster. There are people who claim Tomas Rosicky is actually better than Mesut Ozil, and there are people who would rather watch a nil-nil draw instead of a 4-3 thriller, all the while clinging to their belief that Nigel Reo-Coker's form at Vancouver deserves an England call-up, it's just that England are too stupid to realize.
Not so with this suggestion. There is no hidden agenda, no snobbery; it is actually true. The equation is simple: The more Liverpool keep winning, the higher expectation rises; the higher the expectation rises, the more pressure that is exerted upon the burgeoning squad. If Liverpool (3-0) beat Swansea, then Southampton becomes their biggest game of the season. After that, Sunderland. Six wins from six and suddenly Crystal Palace becomes the biggest game since football began.
But first, Swansea, and a near eight-year record that Brendan Rodgers is close to breaking. Including the final two games of last season, Liverpool have won five games in a row. Not since 2005 have Liverpool won six consecutive league games, an astonishing reflection of two things: the strain of Champions League football under Rafael Benitez and the corrosion since they last failed to qualify for the competition.
There is a clear correlation between success and consistency; the ability to win no matter what, and do it often, is the sign of a serious football club. This is made evident when Liverpool's seven-year glitch is compared with those they chase. Manchester United, Manchester City, Arsenal and Tottenham have each managed six straight league wins in the past two seasons, while Chelsea did so in the season of their last title, 2009-10.
Though it fundamentally highlights that Liverpool's squad has not met the requirements in either quality or quantity, it also demonstrates a side that have forgotten how to maintain momentum. This team has not been capable of coping with pressure -- not in the league, at least -- and the slimmest sign of a must-win fixture is usually followed by a litany of failure. Shoulders hunch, heads explode and points are given away when there is a feeling, tangible or not, that the forthcoming fixture has importance attached to it.
An inspection of Liverpool's recent fixture lists reveals perpetual failure, must-win games becoming must-see for those who revel in their abjectness against teams both great and small. Even the current manager, striving to change that fault above all else, oversaw defeats to Aston Villa, Stoke and Southampton.
A lot of this is because of expectation. There is the expectation that engulfs a player, manager or tea-lady from the moment they sign for Liverpool, of course. There is the expectation spelled out by Bill Shankly's rhetoric that is essentially filtered through the sound system at Melwood; there is the suffocating patchwork quilt of success from the 1960s, 1970s, 1980s and Istanbul that adorns the walls, and the overriding, gut-grabbing realisation that your goals, tactics or cups of tea are never good enough to be placed on walls.
But there is the expectation of the here and now, as well. There is expectation that every win is another three points toward a restoration of greatness or, at the very least, Champions League qualification. This is a side that has struggled with that in recent years. In May 2011, Liverpool's must-win game for Europa League football against Tottenham at Anfield ended in a 2-0 defeat; in March 2012, with Champions League under Kenny Dalglish a possibility, they capitulated at home to Robin van Persie and Arsenal. When hopes are at their peak, the fall is far more painful.
Liverpool will travel to south Wales in peak form, even if it is broken by the summer break. Not since the end of 2008-09, the season when Liverpool flirted incessantly with the Premier League title, have they won five consecutive league games. Yet Rodgers has presided over that with this squad, a blossoming squad which is finding its step with every match.
It's impressive both statistically and when watching it unfold on the pitch. Of the five straight wins, the last four have been genuine bar-room brawls created by a steadfast belief in defending a 1-0 lead -- a genuine acknowledgement that Liverpool are playing in games that matter and will set up as such. After the performances against Stoke and Aston Villa, Daniel Sturridge's early goal against United was met with the Kop's united utterance: Defend this. The momentum, and expectation, was with them.
Of the five wins, only the 3-1 result against Fulham last May could be considered thoughtless and full of frolic; the other four have required the team to work hard and maintain discipline. With that comes expectation; expectation that Liverpool can win every game with such industry and calculation, that the red barricade can be erected and leads will remain untouched. Rightly so. In the past 11 league games, Liverpool has conceded from open play just twice.
It won't last forever, of course. And the longer it lasts, the more inevitable the tumble becomes -- such is the disposition of a club with no league title since 1990.
There is no reason for it to end at Swansea, however. Rodgers does not have it easy, but he rarely does. Against his former club, a club that will be desperate to show his loss is not felt at all, he must decide if he is to keep the defence -- sans the injured Glen Johnson -- that performed so well against David Moyes' United side. A dilemma, given Mamadou Sakho awaits his debut and Kolo Toure appears fit to return.
It's the biggest game of Rodgers' managerial career so far, an opportunity to keep Liverpool top of the league with 12 points from 12, so he must choose wisely. Not that he, or Liverpool, will mind that; it has been a long time since football mattered so much at Anfield. Momentum is with them and expectation shoots its laser-like glare; Liverpool must not wilt. If they do not, this unlikely adventure continues. On Monday, Swansea; the day after, the world.