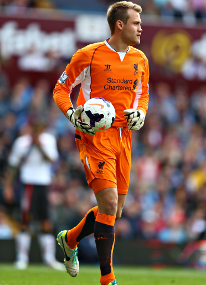 One of the keys to being a successful team is mastering the art of grinding out 1-0 wins. No matter how good a team is, it's impossible to play well every week and the teams at the top end of the table are there because they can usually find a way to win, irrespective of their level of performance. It's a trait that has been notable by its absence in Liverpool for several years, so whilst the win at Villa Park was far from being a classic, there's something particularly pleasing about it; this time last year Brendan Rodgers' side would have been unlikely to escape with all three points.
In fact, this time last season the Reds were dropping two points at home to then-champions Manchester City, despite producing a fantastic performance. It was a travesty Liverpool didn't win that day; Yaya Toure even described it as the toughest game he's had in all his time in England. Whilst it was nice to receive plaudits for the performance, unfortunately style points don't count when the league table is compiled. That City result wasn't a freak occurrence; too often in recent seasons Liverpool couldn't even win games when they played well, never mind when their performance level dropped.
Last weekend against Stoke City the performance was impressive, yet the afternoon could so easily have ended in disappointment had it not been for Simon Mignolet's late penalty save. That was a game Liverpool probably wouldn't have won last year and the same can be said of Saturday's triumph over Villa, which was an archetypal "game of two halves."
The Reds were excellent in the first period, dominating possession and looking dangerous in attack. Without the ball they impressed, too, pressing well and forcing Villa into mistakes and completely preventing the Midlands side from finding any kind of rhythm. The only negative from the opening 45 minutes was that Liverpool had only Daniel Sturridge's solitary -- albeit wonderfully taken -- goal to show for a dominant performance in which the home side was chasing shadows for long periods.
After the break, however, Paul Lambert's men came back into the match as Liverpool faded badly and it needed the intervention of Mignolet, once again, to secure maximum points for the Reds. Let's not sugarcoat it: the second-half performance was poor, the possession football completely disappeared, as did the goal threat. It wasn't pretty and it wasn't what we've come to expect from Rodgers' Liverpool. And when Christian Benteke went clean through late on, Liverpool fans will have had the same sinking feeling they had last week when Stoke were awarded that last-gasp penalty. And just like last week, Mignolet came flying to the rescue with a superb save.
Great goalkeepers win points, and whilst it's too soon to be proclaiming the Belgian as "great," you can make a very strong argument that Liverpool is already four points better off just from his presence between the sticks. Benteke went close in the first half, only to be denied by a flying stop by his international colleague, and when the pair faced off again after the break, once again it was the keeper who came out on top. Two terrific saves. He pulled off two or three top-drawer stops last week, too.
Speculating as to whether Pepe Reina would have made the saves that Mignolet has is a completely pointless exercise -- it's impossible to know what would have happened and it's also disrespectful to Reina, a popular figure with the supporters and someone who provided good service in the eight years he was at the club. All I will say is that for the past few years fans often bemoaned how teams would need to have only one or two shots a game to be able to take points from the Reds, but that trend has been reversed, so far, in the opening two fixtures of this season. Liverpool could so easily have been held to two draws, but instead they have two clean sheets and two 1-0 wins. The biggest reason for that have been the goalkeeper and the high standards he has set.
Center back Kolo Toure also deserves some credit for the solid defensive start made by the team. He was rock solid once more and whilst you are never going to completely subdue a player of the caliber of Benteke, this was a far cry from last season when the powerful Belgian completely manhandled Martin Skrtel. Big Kolo stood up to the test well and he's shown already what a shrewd acquisition he will prove to be.
Six points from the opening two fixtures is a terrific start for the Reds. It hasn't been entirely convincing, but being able to grind out results is a vital habit to develop and Villa Park won't be the easiest place to go and win this season. Villa's young, hungry side is a far different proposition this year than they were last. Arsenal, Chelsea and now Liverpool has all been given a difficult test by Paul Lambert's side, and this was a huge three points for Liverpool.
One thing Liverpool certainly doesn't want to do is fall behind early in the battle for the top four. Two early wins is the ideal preparation for next week's clash with Manchester United at Anfield. Playing well would be nice of course, but few at Anfield will be complaining if it's another less than entirely convincing 1-0 triumph.